I wanted to try reverse shift on the zx-6r but im to cheap to buy rear sets or a kit so i set out to figure a way to do it my self.
here is the standard shift setup.
I first started by just flipping the front clamp the other way. Take out the clamp bolt, pull off the clamp. Flip the clamp up and slide it back on. Reinstall the clamp bolt. When tightening the bolt keep constant preasure on the clamp by pulling it toward you. This will help keep the clamp in the right spot when tightened down.
At this point, the shifter rod still rubs against the frame so i loosened the bolt holding the shift lever, its the allen head bolt just above the shift lever and forward of the foot peg.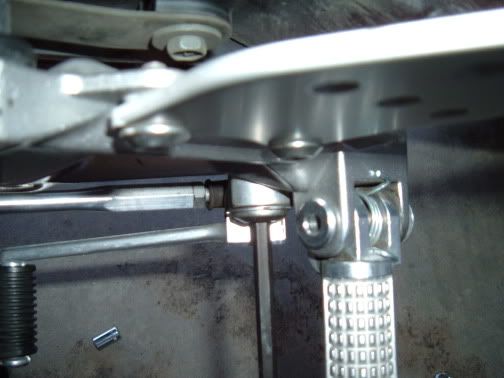 You have to back out the bolt to create a gap between the shift lever and the mounting bracket.
I went to the hardware store and bought several diffrent washers. I got brass washers, with 5/16 holes, because they are thick and wont get rusty. The stainless ones were to thin.
Unscrew the shift lever bolt from the mount. There should be a stainless steel washer installed already from the factory. Leave it installed on the bolt and add additional washers to that.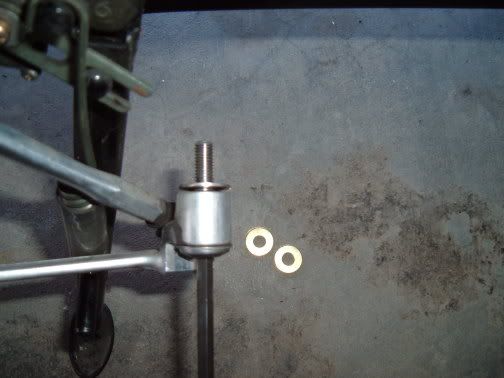 I started with 2 brass washers but you probably will need more. Here is a pic of the washers installed.
When everything is tightened down check the clearance between the frame and the shift rod by rolling the shift rod slightly back and forth between your thumb and index finger. Make sure the flat side of the shift rod is next to the frame. You may have to turn the shift rod slightly for this. I did not have to with mine.
It shifts just fine. Make sure you recheck the clearance after a bit of riding. The clearance tighten up on me after some riding and it would not shift right so i had to add another washer. No problems sence.
All modifications are done at your own risk.
And dont forget the practice shifting the new way.