http://www.zoan.ca
Not sure where this company is based, but I tried a couple of them on at a local shop today.
First impression?
Way fuckin lighter than my HJC.
Second?
Way more comfortable overall. The one I tried on had the same fit as my large HJC, but was labeled as an XL so the sizes are a bit small. It was snug all around while not having any noticeable pressure points. My ears were far more comfortable in it, but the neck was much more form fitting. This results in it being harder to pull on and off. Also had a chin piece built in, something which keeps wind noise down and costs extra on other helmets.
$130 dollars gets you a fairly light (nothing amazing, but not bad) helmet with a drop down tinted visor, a much better lens latch than the HJC which binds up once they wear down and slightly better venting.
The other one I couldn't try on (too big) was just as light, a little bit more expensive I think, and had tons of vents along with the previous features.
I am looking more into them, but I think I might buy one in a couple weeks here if it all looks good.
EDIT:
Got mine, fit is great. It is a little tight, but hopefully it will break in well enough. It is an XL while I normally wear a large so be sure to order a size larger. The finish is good, but the carbon fiber layup leaves something to be desired. There is one spot that I didn't get a pic of where the weave is "stretched" but aside from that:
These are under the clear coat, small creases in the CF. I didn't even notice them until I got it home and really started inspecting this thing.
This is what appears to be a nick in the resin, under the clear coat. Also hard to see.
The seam is well aligned however, though a bit messy.
But, look at what the liner is made of: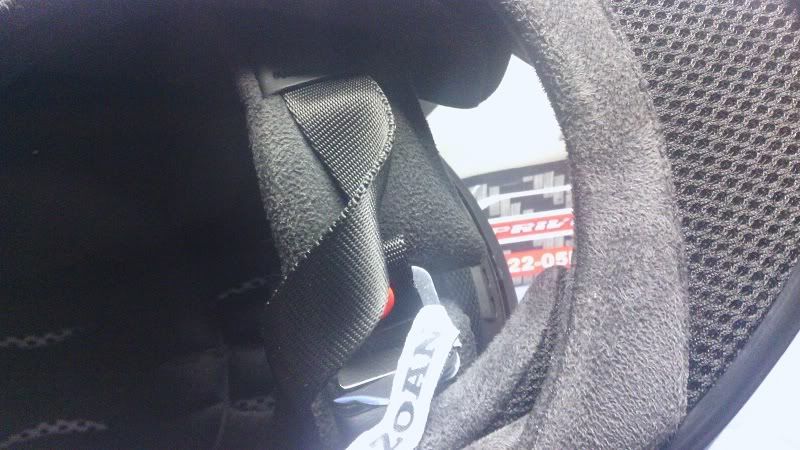 That shit is soft, comfortable... and the whole liner is removable and can be machine washed.
I dont have it pulled all the way down in this pic... just realized that.
This thing fits really well, but its tight at the moment. If it doesn't break in well enough I will probably wind up ordering an XXL liner. I have faith that it will loosen up just right once it is broken in. But here is what I bought it for: This thing is light as fuck. The sticker on the back says 1280 grams. That puts it at 2.82 lbs which is right about what the scale said at the store when I picked it up. There is virtually no "spin" to the helmet when whipping your head around like with my heavy ass HJC.
The fit is almost perfect too, aside from being tight. If I tilt the helmet up, down, or side to side - anything other than properly situated, it actually binds up on my head a little bit like trying to twist an oval peg inside an oval hole. Even without the strap on it stays put very well.
The whole thing feels small, like its physically smaller and closer to my face than my HJC. I imagine I will get used to it, and some of it probably has to do with the breath guard.
My gf is in the middle of having a small boner talking about how soft the liner is even as I type this.
The quality of the vents and ratchet mechanism are actually a little better than my HJC believe it or not. Overall, even aside from the imperfections which I will never have to look at, and are hard to see anyways... I think it was worth it. If you trust buying shit online, this helmet can be purchased for 199.99 on ebay right now in XL.
I should also point out that the model name of my helmet is "privilege" but the one on the website is called "revenge" but mine matches the pictures online... So idk.