Discussion Starter
·
#1
·
Chock it up to wanting to feel what the other half (or should I say... the OLDER half) feels. Well let me tell ya kiddies... it's back pain. Not sure why but that's what it came down to for me.
The weekend was upon us... My lady was on her way up to Monterey on this Saturday to spend a night on Cannery Row and watch the Moto GP races at Laguna Seca on Sunday. I didn't have the funds to go this year nor did I have Saturday off to make the trip up the night before the races. I was never one that liked going to a GP weekend for only half of the weekend so I had made other plans. Plans that included hanging out with my dad and doing some touring.
I rode the ZX to work in swapped keys with my boss to borrow one of the used Honda GL1800 Gold Wings we had hanging around. The day went by somewhat quick so that was a good thing. Bummer part was the heat index kept rising the later in the day and closer to 5pm that it got. Finally I was headed out the back doors and mounting my steed for the quick trip up to the old mans house. But before that... a stop had to be made at a friends house to give him a "Happy Birthday" and have a quick beer.
Stopping off in South West Bakersfield I was quickly rewarded by said beer and I will say... when it's over 100 degrees and you're wearing leather and riding boots even a Coors Light is a welcome sight. The fluid went down so fast I didn't remember opening the can. An hour of BSing with the buddies and showing off the rolling couch I was taking on my weekend trip to the coast and I was gearing back up... sweating buckets and awaiting the somewhat cooler temps of the higher altitudes.
South on the 99 Freeway to Interstate 5 and up the grapevine to Frazier Park I went. More specifically, Lake of the Woods, where I grew up and my father still lives. It was just about to get dark. I was hungry... and for some reason... the perfect ergonomics of a modern tourer with all the bells and whistles were wreaking havoc on my mid back. "Nothing to worry about." I said to myself and pulled the behemoth into the garage next to Dad's beautiful 1997 GL1500.
Pops had already eaten but wanted an ice cream cone so we jumped in the cage and took a trip to Mickey D's for some salt laden calories and a little artery clogging. We then got back to the house and he filled me in on the goings on in his life. It was a pretty nice time sitting on the couch catching up and joking about some things these lives have offered up. My Dad is one great dude... one of the nicest people you'd ever want to meet. Very humble and easy going. I guess at least I get the easy going part from him! Humble... well... I've been known to toot my own horn on occasion.
The morning had come... it was still a bit dark and I slept OK but not that great since the couch I was on isn't the most comfortable in the world... but sleep is sleep I say. Finding my eyes still blurry from my slumber I then heard dad restling in the bedroom. Sounds like we're about to get the day rolling! I can't wait! This is gonna be a BLAST!! Two old dudes... hittin' the twisties on thousand pound machines that can actually corner if you're doing it right. I still needed coffee though. And gas... there would be at least one stop before we set our sights south and west. Santa Barbara being the days destination.
Packed up the bikes and got ourselves ready to roll out. This would be my first taste of a road I usually take at a pretty good clip and hanging off of a sport bike doing things that could and probably should get me into trouble. Adventure! I'm always up for the task! Let's go!
Once we had our morning coffee and some breakfast (prepared by my loving pop) we were off and headed out Lockwood Valley Road. The road takes its time to get curvy but you get a few good sections to get you warmed up to the road and bike. I was feeling pretty good so far. You would think that a 900 pound touring bike would be sluggish in the turns... far from it friends. The thing seemed to sense my intentions on entry to the corners and with very little effort would flick from one side to the other without so much as a little input on the bars. Low slung weight helps these things do what they do. I was thoroughly impressed! My dad hanging right behind me as I we climbed up the hill a bit to the flatter sections before getting into the Sespe WIlderness.
I had the GoPro's running. One mounted on the side facing back and another mounted to the side of my Valentino Rossi replica AGV lid. I don't always run a helmet cam but the nice big windshield made there basically no wind resistance and I didn't even feel it there.
Right after Boy Scout Road a couple of nice dips get you ready for what is ahead. After the long straight we swept into the tight right hander that would start our jaunt into twisty-land. This road is NOT for the inexperienced rider one bit. There are turns that are laden with gravel, dirt, and water crossings (depending on the time of year) and it's not a place you want to wind up laying on the pavement by yourself. It could be hours or even days and maybe even weeks before you're found should you find yourself running off the road. It's a road that keeps you guessing and keeps you on your toes!
I was feeling pretty confident. My Dad still hanging in there right behind me but having a little more trouble on the exits of some turns due to the lesser torque output of his 1500 compared to the grunt of my 1800. I took note of this and kept pushing forward. Then it came... my first and only bad turn of the weekend. I came into a right hander a little too fast... before I knew it my sport biker mentality kicked in and I thought "LEAN!" was a good idea. Nope... not much further in my already epic lean I felt the right peg and my right heel draggin pavement. Off the throttle a bit and holding my lean I came out of the turn just over the double yellows. Thank the gods for no dumptrucks coming at me!
Once I'd found the maximum lean angle of this beast I was not only a bit more confident but a bit more careful as well. It hugs the turns... it just won't lean more! We moved on into the tougher sections of tight switchbacks and 5mph turns... through creek and river crossings... dry this time of year... and on through the flat lands before highway 33.
A left onto 33 and 1/2 a mile later... we swapped bikes. My Dad had yet to ride the newer generation Gold Wing. Engines never even shut off and we were back on the road... waved to a few sport bikes parked on the side as we headed up the hills.
His bike was definitely down on power compared to the 1800cc, fuel injected beast I had just been on... and the handling was a bit different but it still hung in there as we climbed. Lefts... rights.. straights... sweepers. Man I love this road!! Nobody is ever really on it and it has some of the best turns in Southern California!
Finally coming over the top and into the coastal side of the mountains we were headed down to the first stopping point. Old Pine Mountain Inn or better known as "Wolf's Tavern" where we parked and took a breather.
Fighting off flies and done with standing around we hopped back on our respective machines and blasted off down the mountain. GoPros capturing the whole thing. (Sorry... I don't have videos available on here as this is a blog that requires you to read and use your imagination).
We spent the next 30 minutes hugging about 200 turns in roughly 20 miles. Both of us using every inch of lane supplied to us by the California Department of Trasnportation. The bikes loving the attention to the authority at which we threw these beast into the turns. I think I even heard my bike laughing at the enjoyment she was having. That or she was laughing at the lack of confidence her rider has in the turns.... anyway.
Soon we were in Ojai. Slipping through the little town watching tourists and a few motorcycles headed up the hill we had just come down. I had been tapping my head at every one of them letting them know about the nice CHP car up in the canyon. A jaunt out of Ojai and onto highway 150 towards the 101 Freeway was at a nice clip... nothing excessive. Then it eventually happened... we were dodging bicyclists. This is a pretty popular ride for road bicyclists... and they NEVER let you pass and are ALWAYS in the way. They cause more unsafe conditions than any cager I've ever come in contact with. As soon as we were past most of them and almost to highway 192 that leads into Carpinteria and eventually Montecito and Santa Barbara we came up on a pack of about 20 of them. Of course they were ALL in the lane going about 20mph and holding up traffic without a care in the world or a thought that they were basically a safety hazard. So I flipped on the blinker and made the right turn onto 192. Ahhhh... clear roadway! More turns! Lovely!
We kept a nice leasure pace and decided to stop just outside of Carpinteria before entering Montecito for some more gatorade and a few snapshots. After a few minutes and a text to the little lady, who was just getting to the track that morning for her day of racing, I decided we better make our way to the peir in Santa Barbara for some ice cream.
Soon... we had arrived. Rolling down the pier, all of the tourists looking at the fine displays of modern motorcycle transportation, we made our way to the motorcycle parking area. I pushed the button for reverse and hit the starter button.... "whirrrrrrr" as she slowly crept backward into the parking space marked "motorcycles only". We had made it. Now... why in the hell won't the reverse switch turn off? "Shit!" I said to my dad... "The reverse button is stuck on!" After a quick 10 minutes tearing apart the gripI was able to un-stick the button. "I guess I'm not using reverse anymore this weekend!" "Let's get some ice cream... mmmmm.... rocky road please!"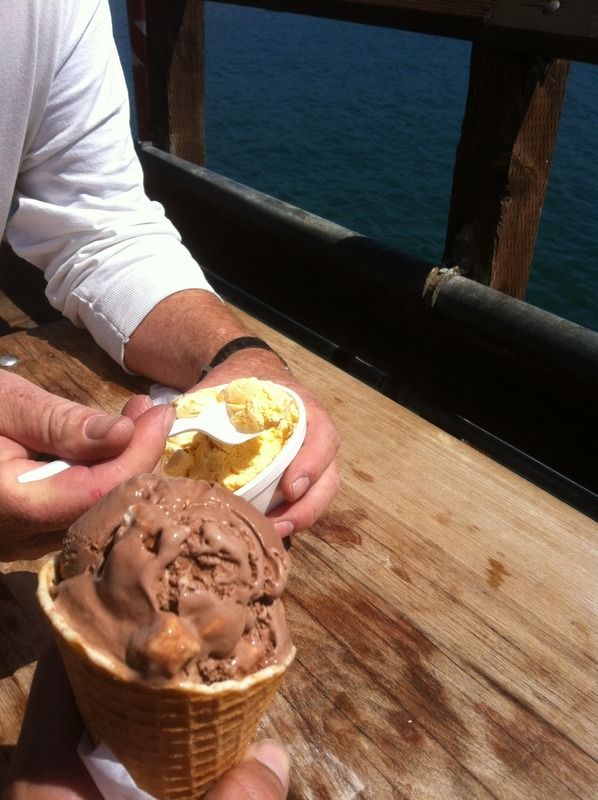 We sat and talked for a little while longer and I made a few texts to some friends I hadn't seen in a while to make plans for my evening since I was going to be staying the night in town. Eventually we headed back to the bikes to go have a short cruise around Santa Barbara. As we were gearing up there were many tourists checking out the bikes. A Japanese family seemed to find the couple of Harley's and my Dad's old '97 Wing the most impressive... Where my 2005 1800 bad ass cruiser (and probably the most expensive of the whole lot of them) wasn't getting so much as a glance! So I did what any metal head with a stereo on his bike would do... I cranked up some Lamb of God and slipped into my own little world as I geared up.
Off and back up the pier and to Cabrillo Blvd. where we swung a left turn and cruised along the beach and up the hill to "the Mesa". Tooling along more we came into Oroyo Burro Beach and up into Hope Ranch. If you're never been to Santa Barbara, Hope Ranch is where some of the biggest homes and weathiest people in the area have homes that overlook the Pacific Ocean. It's truly a sight to see some of these homes. And it's almost hard to believe the cost of them too. Even a 2 room shack in this area can sell for WELL over a million bucks! I think I'll be fine just riding through. We finally got back to reality as we came back into the busier part of town commonly referred to by locals as "upper State" where we stopped off at my old work place to see if a friend of mine happened to be around. He was and we sat around talking about the fun I'd left behind when I left town. (I'm bring very sarcastic by the way).
Soon after it was time for lunch. We took off for downtown SB and a favorite place of mine called Santa Barbara Brewing Company to meet me ex-wife for lunch and a brew. Yes... sometimes ex-wives can still be your friend in the end! It was a good time and I got caught up on all the happenings of friends and family past. Paid the bill and walked back to the bikes with the old man who was going to make his way home.
After we parted ways... I watched my mentor and father ride off like a bat out of hell on a big ass bike... thankful to have him as my riding mentor and most of all... glad to have such a cool pop. I'm truly blessed.
I eventually heard back from a couple of friends and wound up over at my best friends house for a few beers and a look at his new place.... that they happened to be moving into that very day. I think he was plenty happy with the beer break! Caught up on lost times and again... as quickly as I had come... I was gone and headed to visit another old friend.
The view from my friend Kaleo's place is sheer AWESOMENESS! See!!??!?? And the agave plants in his yard would make A LOT of fine tequila!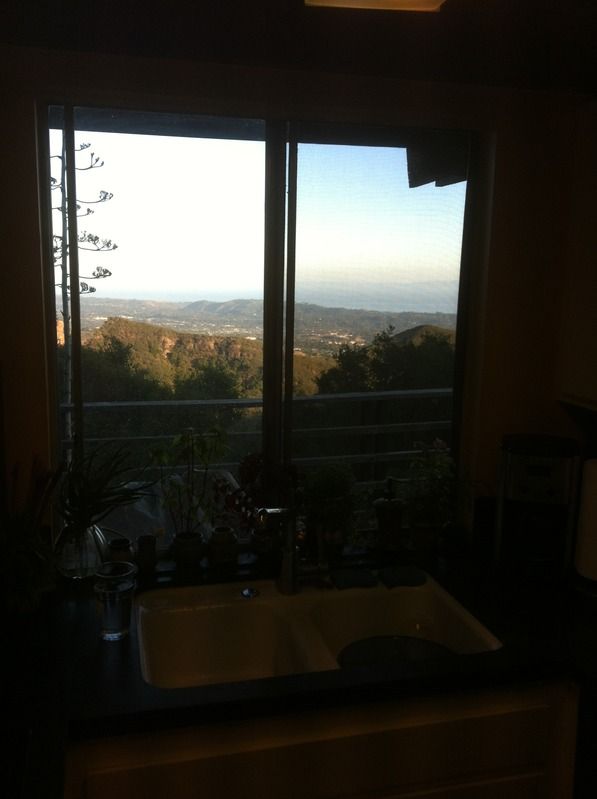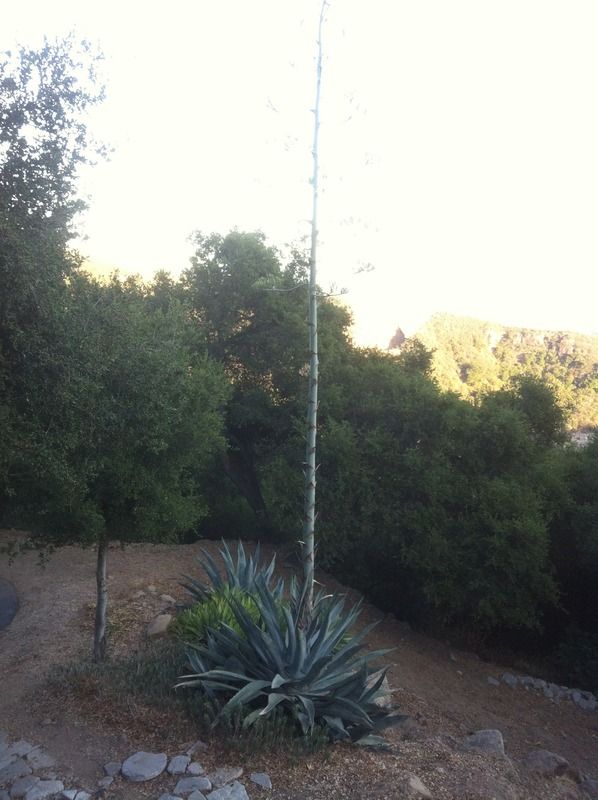 Soon I was back on the bike and headed back down the hill to Santa Barbara. Pulled off of the 192 off onto Old San Marcos Rd for some sights and more turns before I ended my night.
Monday morning.....
I awoke early enough to see the clouds and a bit of sun desperately trying to peek through the layer of mist and once I began moving I felt a soreness I hadn't felt in years of riding a sport bike... really bad back pain. You'd think that one of the worlds nicest super tourers wouldn't supply such pain in the back. So I did what any motorcyclist in this precarious position would do.... I popped 2 Aleve and a couple of Advil and washed them down with a steaming cup of coffee! It's time to put some miles on today! Can't keep me from it!
Packed up my stuff and said my goodbyes to the friends and left for one of my favorite spots for some breakfast. The Mesa Cafe. The place has great food, great service and good people watching.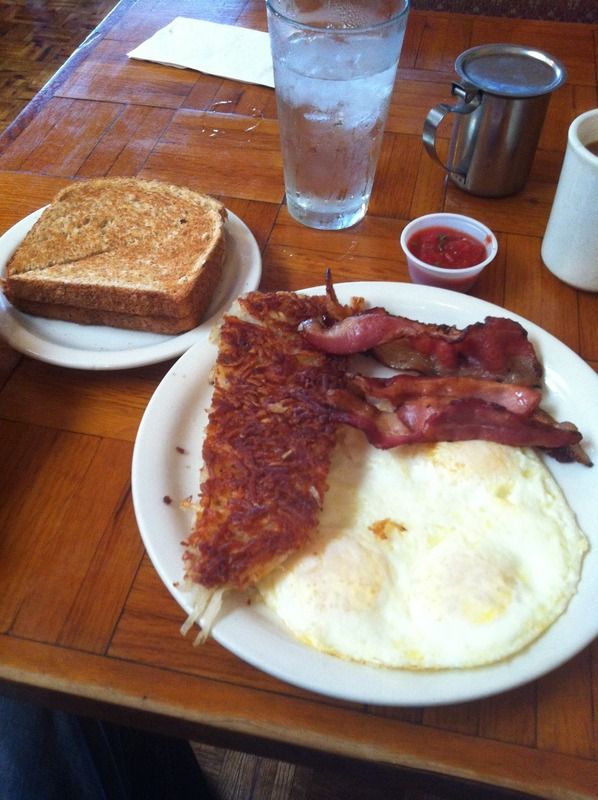 I wasn't about to let a little back pain ruin my day. But as much as I tried to lose the soreness in my mid and upper back I just couln't shake it. It wasn't something I was used to on a motorcycle. Wrist pain... yes. Leg cramps... yes. Stiff neck... check! But back pain? This sucks. Oh well... To infiniti! And BEYOND! And I began my trek up the 192 and over "the Pass" towards Lake Cachuma.
The road was heavy with mid morning traffic on this Monday morning and soon I began a cycle that wouldn't stop until I was headed East. "The Wave". You see... it was Moto GP weekend up in Monterey. And many of the people that rode up there this one weekend were headed back down South and back to the reality of life. It's a trip I've taken myself. The whole wasy you get closer and closer and you have plenty of time to think about how you're going to make the trip more exciting come next year. I waved to the first pack about 5 miles into my trip that morning.... and it just never seemed to stop. Wave and a couple bikes... wait 5 minutes... wave at a few more... few more miles... more bikers. More waving. I think on top of this back pain I'm going to get a cramp in my shoulder from all the waving!
I cruised into Solvang around noon and decided to rest the bones a little. And see what I could find to keep myself entertained. The interesting thing about solo riding and being on your own are the countless people you come in contact with that you can just sense wish they were in your shoes... or riding boots I guess. They want to know where you're going, where you came from, and what you're riding. Another thing I found interesting were the many older gentlemen that made their way over to me when they saw me taking my helmet off. Most couldn't believe that a guy at the young age of 37 would be on such a machine so early in their life I guess. I don't know. But I could kind of relate to their suspicions that it must be an older guy on this 900 pound rolling couch. Too bad I didn't borrow one with a back rest... because I was certainly feeling older than I was this day. I think I need some chocolate.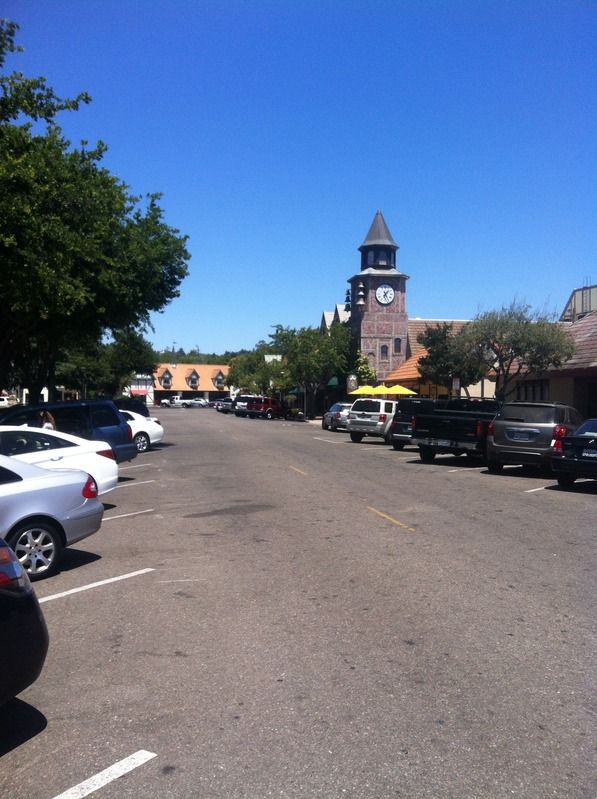 After my chocolate stop and some light conversation with some German tourists I crept back onto my machine and fired up the big 1800cc 6-cylinder engine and made my way out of town... headed North for Pismo.
The ride up PCH is always fun... I like this section because it's not what everyone imagines Highway 1 to be... it's more agricultural and you can't see the ocean. FOr me it's the smells of this area. At one point I could smell fresh celery still growing in the fields to my left. A mile or two up the road... strawberries filled my nostrils. A few more miles a flower farm giving off such aromas that you felt like you'd just walked into a nursery. The agricultural trucks and workers lined the road as I made my way into the small town of Guadalupe. Just as I came into town I almost passed it, just like I always do when on my sport bike. But something about this Gold Wing made my head keep turning from left to right and back again to take in all the sights I might have missed on the countless trips through this area I had taken before. Instead of checking my mirrors for cops or bad drivers I was content with not caring so much and taking in the sights.
I stopped for another break across from the cemetary... I had to take a quick photo. I'm sure the local police that were cruising by were curious as to my morbidity this lovely afternoon. But that is just how I roll.
Mounting up soon after this photo I knew it wasn't going to be long before I was able to stop for lunch. Pismo Beach in my sights. The miles flew by and the road began to curve more and more just before getting into Oceano. Eventually I was behind a few slower moving cars... back aching like it hadn't all day. I was in need of rest. And pain killers.
Pulled into the main drag in Pismo and found a motorcycle only parking spot. Dismounted. Locked up all of my gear on the bike. Changed into my sneakers and plodded off in search of nurishment. Wasn't long before I was seated on a patio with a cold glass of Firestone DBA and a mondo club sandwich and some award winning clam chowder staring me in the face. It was all gone before I knew it. And I was back on my feet and headed for the bike.
Suited up and ready for action... the last of my Advil ingested, I set off again... North some more. My destination... Higway 58 to make the trip East back into the firey pits of Bakersfield. I wasn't all that enthusiastic about going back to where it's hotter at night than most of the places I'd been the last two days during the day. No sir... I was a bit sad. But there would be more journeys ahead. Maybe not on a Gold Wing though I thought.
Up the 101 Freeway I went... clipping along at about 75mph and passing a few cars I looked to my left toward Avila Beach. I hope they put out the fire on the top of the hill. It looked like it had just started and there were a couple of helicopters out. Smoke filled the back side of the mountains as I got closer to Santa Margarita.
Eventually the exit for Highway 58 was looming in the distance and I exited the 101 on my trek East. I could already feel the air getting hotter. This was going to be a tough trip back to the pits of the Central Valley. Not only because of the heat and back pain... but simply the fact that I knew I had to go to work on Tuesday! The trip was almost done! Damn!
A stop for gas in Santa Margarita and a Red Bull I threw into the side compartment and I was off and into the twisties. Not 10 miles in my back cramped up so bad I couldn't breathe! I had to pull off... practically crying like a baby and cringing from the sharp shooting pain in my back and shoulders. It was time to stop and have that Red Bull. This looks like a good spot!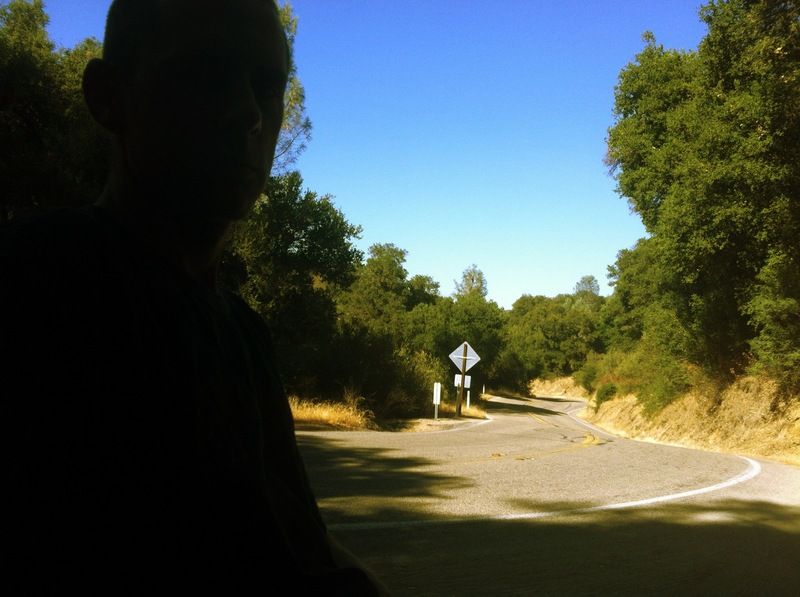 The time spent on the side of the road was used for some stretching and jumping jacks to try to get my body loosened up. Some Red Bull for energy... or maybe just to amp myself up to the point that I couldn't feel the sharp pains in my spine. God I missed my sport bike by this time in my trip... I wouldn't be hurting so bad. But at the same time... I wouldn't have room for the stuff I took with me! Trade offs man... trade offs.
I knew the time had come... I got back in the saddle and fired her up. Twisty roads await!
This big silver beast I was on started to come alive and my pains had subsided for the moment. Maybe because of the adrenaline of turns or maybe because I was moving all over the bike leaning off like a supersport... maybe a combination of the two? Who knows! But I wasn't hurting and the turns were moving past as quickly as they came. I was thoroughly impressed yet again by this bike. It flicked back and forth from left to right to left and back again with the slightest input on the bars. She hugged the turns and even let me get a little aggressive at times... while still making sure I knew not to lean her too far over.
Soon I came over the hills and overlooked the valley of my home below. I had almost made it. One more stop for some water and a photo op.... let's get home.