The price of quality leather gear seems to keep climbing, but this is not the case at
Speed and Strength
. They were able to put out a nice suit for a very competitive price, and that suit is the Twist of Fate 2.0. Speed and Strength built upon the success of their original Twist of Fate and designed the new version with even more protection and comfort in mind. What they ended up doing was upping the quality in both of those key areas, while still managing to keep the price of the 2.0 the same as the outgoing original.
The first thing you notice when you slip into the Twist of Fate 2.0 suit is that it feels broken in right off the bat. This is because Speed and Strength made this suit very flexible through the use of Schoeller® Keprotec® panels. This stretchy material is soft and comfortable while still remaining very durable. These panels are found running under the arm and on the back of the lower leg. There is even a narrow piece that extends from the arm up to the collar. You will also find the familiar accordion style stretch panels in the lower back and sides.
Additional comfort features include mesh material at each wrist and ankle. This lightweight mesh helps the suit fit comfortably under your gloves/boots and it won't bunch up. It also helps keep you cool – which is never a bad thing. Cooling up top is provided by the abundant perforation found all over the torso. All in all, these features add up to a very comfortable suit. Having a comfortable suit is great, but this doesn't mean a thing if it won't protect you in the event of a crash. This is why Speed and Strength also focused on keeping safety while they were designing the Twist of Fate 2.0.
This suit uses a 1.4mm cowhide frame that is held together with genuine Kevlar® threaded seams that Speed and Strength calls H.I.S.S (High Impact Safety Seams). Moving inside the suit you'll find CE approved shoulder, hip, knee and elbow protectors from Knox. High-density foam is found behind the leather in many areas to add a little extra protection to the more sensitive areas. The MotoGP inspired elbow guards are Knox armor that has been sandwiched in this high-density foam before being sewn into place. This insures that they will stay in place and absorb more energy if the need to. A Knox unit also provides back protection, but it is an insert and we recommend upgrading to a higher quality, full coverage back protector if you plan on hitting the track.
The
Speed and Strength Twist of Fate
2.0 is a suit that offers a lot of bang for the buck, so be sure to get in touch with Nathan if you're interested. You can give him a call at 866-931-6644 ext. 809, or you can send a message to FORUM at RIDERSDISCOUNT dot COM and we'll get back to you right away.
The Speed and Strength Twist of Fate 2.0 in white.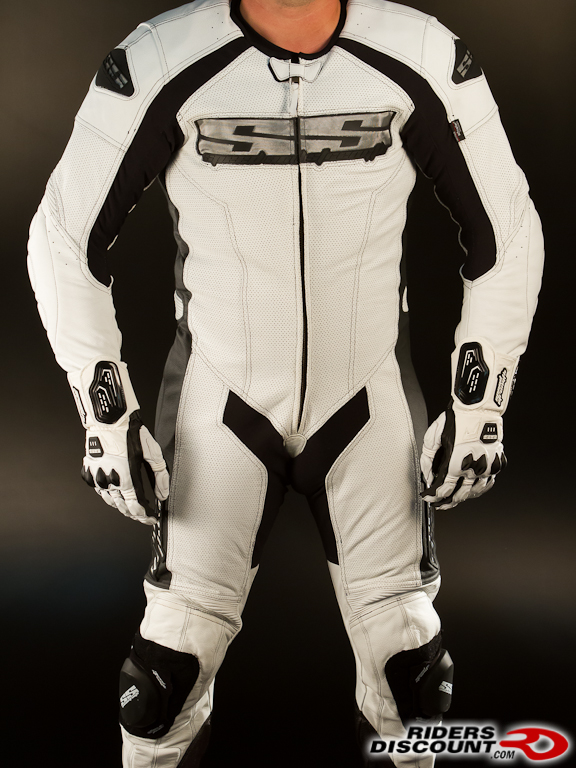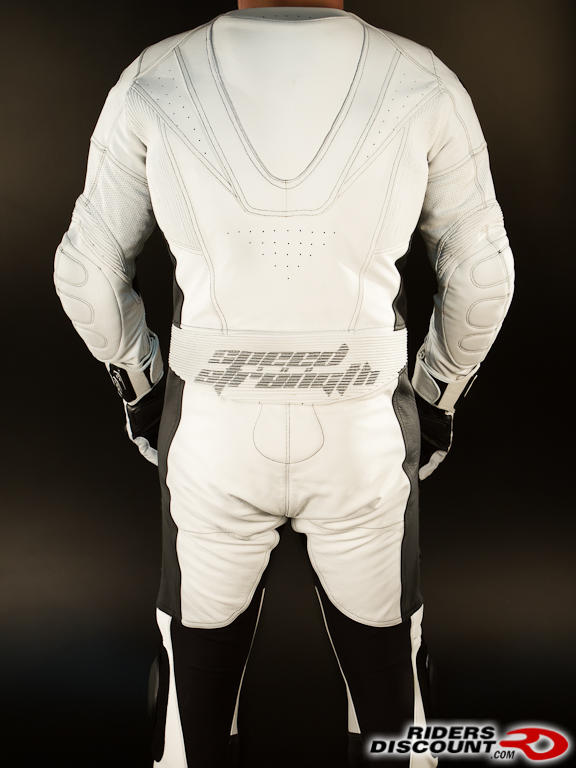 Plenty of perforation to help keep you cool.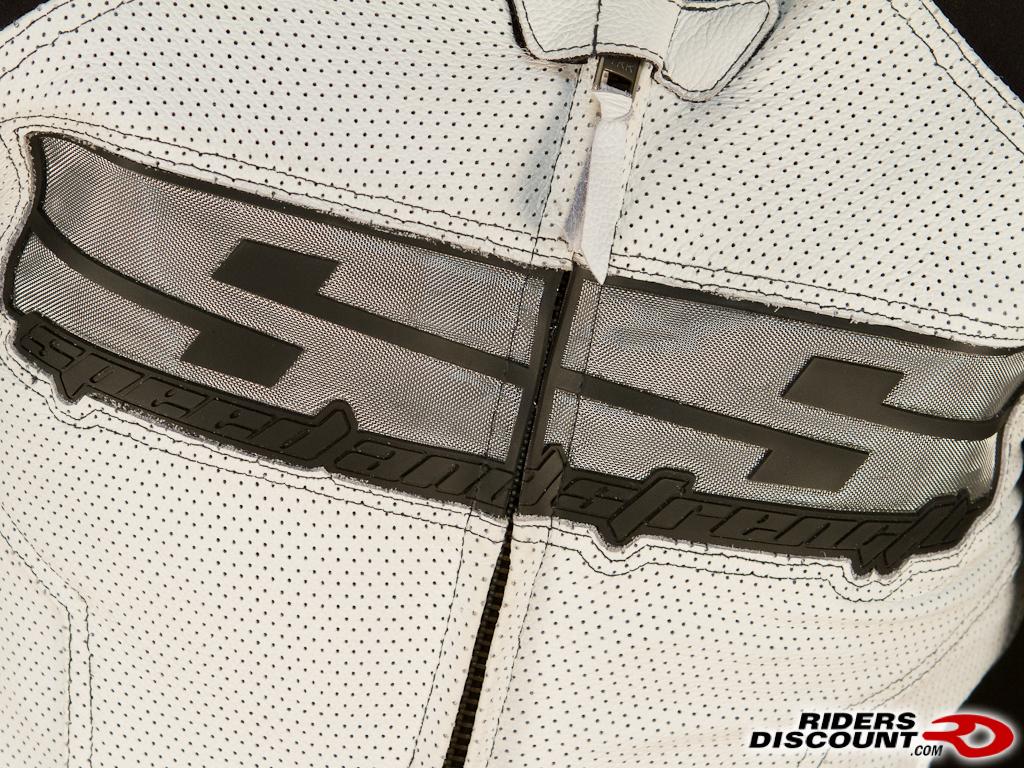 A stretch panel extends from the underarm to collar for comfort and flexibility.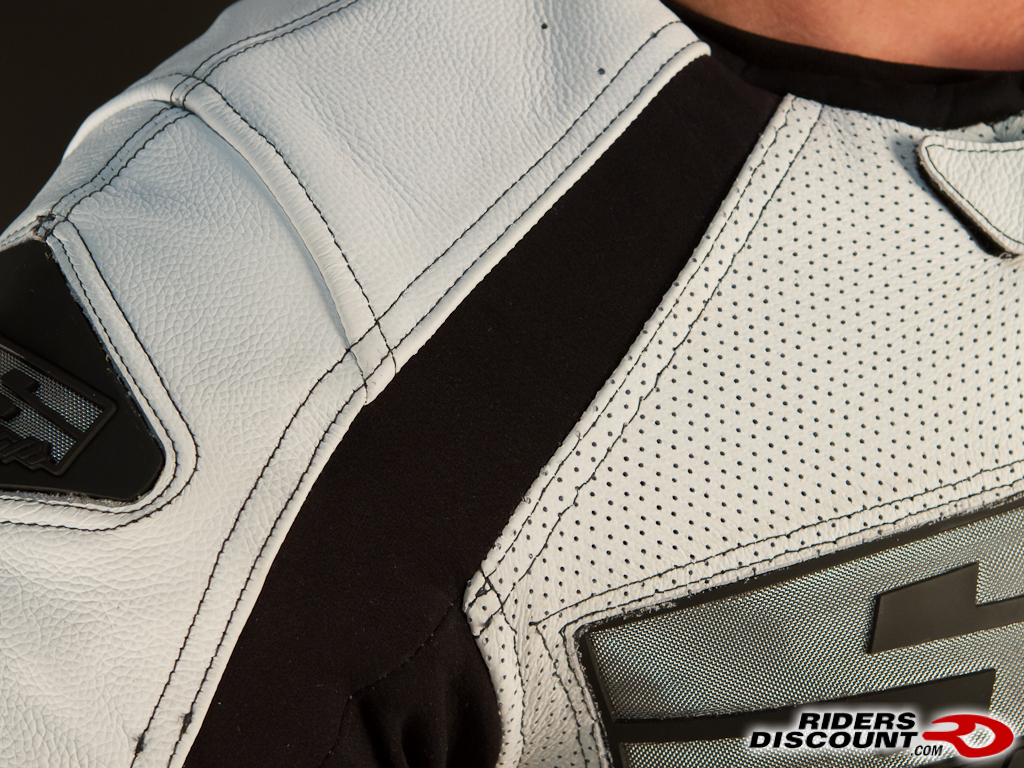 A custom Speed and Strength suit could be seen on
RidersDiscount.com
owner Brian Gibson during the AMA weekend at Road America this year.