If you are in the market for a great pair of boots that provides top of the line features at a mid-range price, you'll definitely want to check out the Sidi ST and ST Air boots. The Sidi ST is a great option for just about any rider and their advanced protection/comfort features make them excellent for the track or the street.
Like their big brother, the Vortice, the ST uses the Sidi Vertebra external brace system which can be seen running up the sides of each boot. This structural system is made from extremely durable thermoplastic polyurethane (TPU) that functions as impact protection for both sides of the ankle, while also limiting the extreme ranges of motion that can cause injury/strain. One would think that this would restrict necessary on-bike movements as well, but this is not the case. The great thing about the Vertebra system is that it only restricts the outer range of motion, and not the short movements needed to click up or down a gear. The external bracing also works in conjunction with a shock absorbing heel cup to help further absorb and redirect impact energy away from your foot and ankle. The Sidi heel cup is unique in that it uses three different densities of plastic and a memory foam lining to provide a 3mm absorbing range.
Sidi chose not to use the cable tensioner system from the Vortice on the ST, instead opting for their dual cam-locking mechanism. This is a unique feature to Sidi that is predominately seen in their motocross boots. The dual cam-locks and the pivoting ankle brace make getting into and out of the ST an extremely quick and easy affair – unlike the Vortice. This also means that the ST can comfortably fit riders with larger than average calf sizes. Opening the back of the ST reveals even more comfort features. The bootie has a calf stretch panel, moisture wicking and anti microbial material, as well as removable inner arch support for those with flat feet.
In the event that you do test out the protection offered by the Sidi ST, it is easy to repair any external damage to the boots. Nearly all external parts – from the heel cup and ankle bracing, to the cam locks and straps – are replaceable. All you need to do is remove a few easily accessible bolts and swap the broken pieces out with the readily available spares. No need to send these out for repair and worry about not getting them back in time for your next track day or ride!
The Sidi ST is available in both the perforated and non-perforated versions, with color options listed below. Look for the Sidi boots on the Riders Discount Vesrah Suzuki team at a track near you and feel free to ask them how much they like them! If you would like to order, or ask any questions regarding sizing or fitment, contact Nathan by sending a PM or giving him a call at 866.931.6644 ext 809. You can also send an email to FORUM at RIDERSDISCOUNT dot COM with SIDI ST in the subject line and we'll get back to you right away.
Available colors:
Sidi ST – Black, Black/White, Black/Red, Black/Blue
Sidi ST Air – Black, Black/White
MSRP - $395.00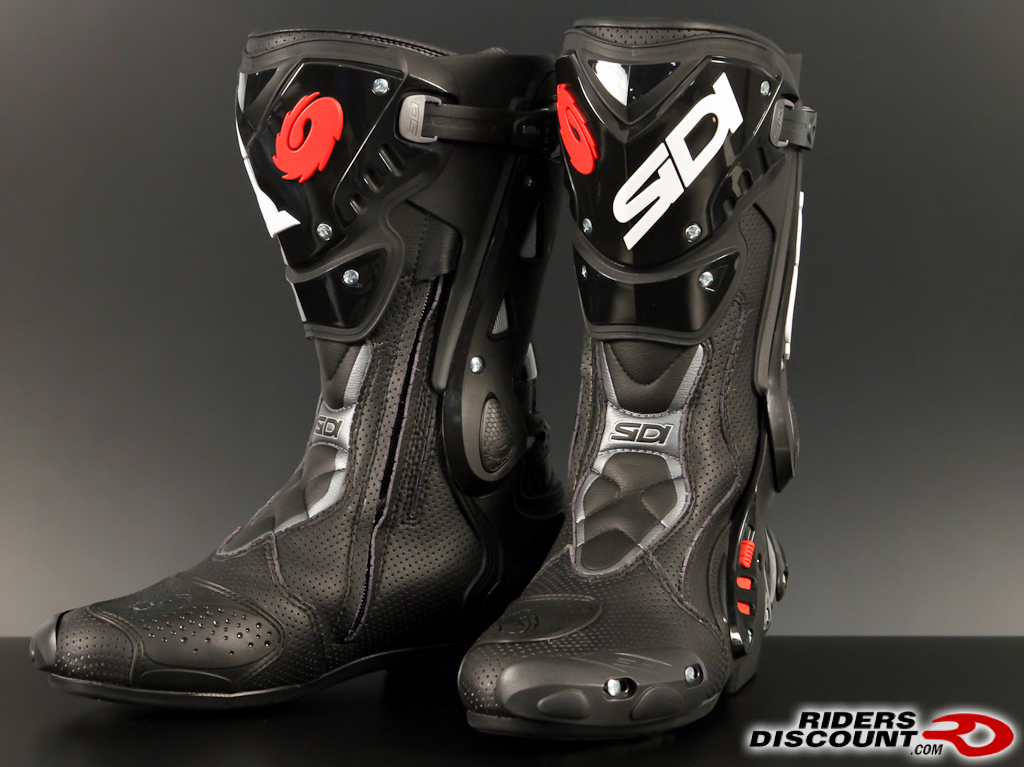 The ST Air is available in black (above) and black/white (below). The non-perforated ST is available in these colors, plus red and blue.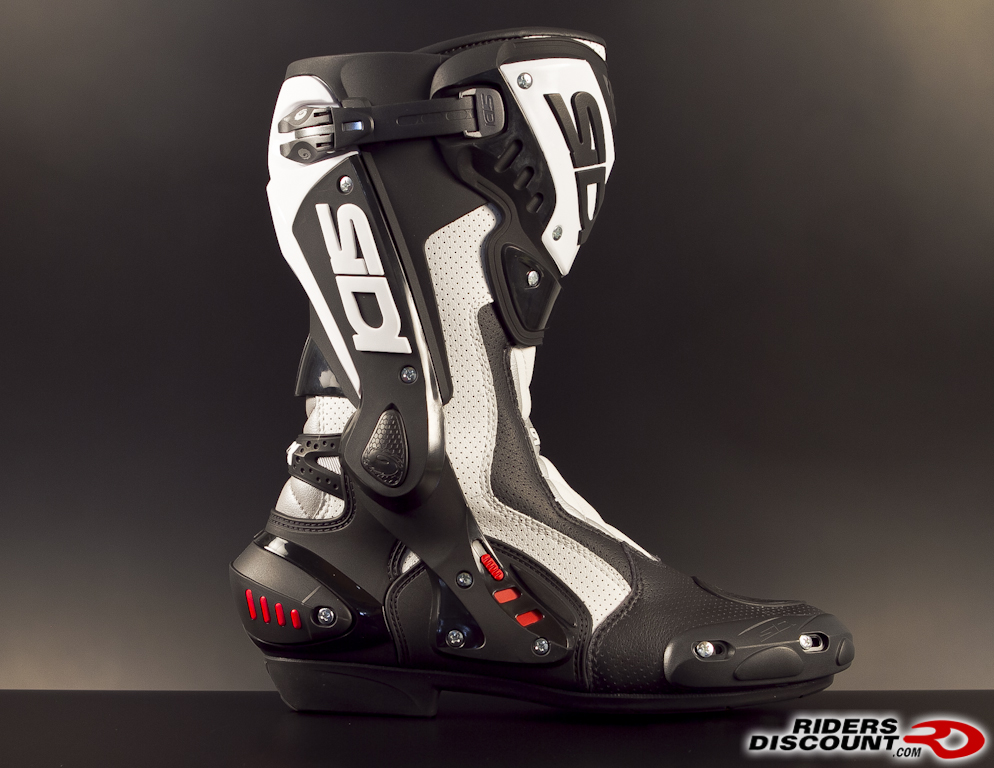 The large vents have an on/off switch that allows you to regulate air flow.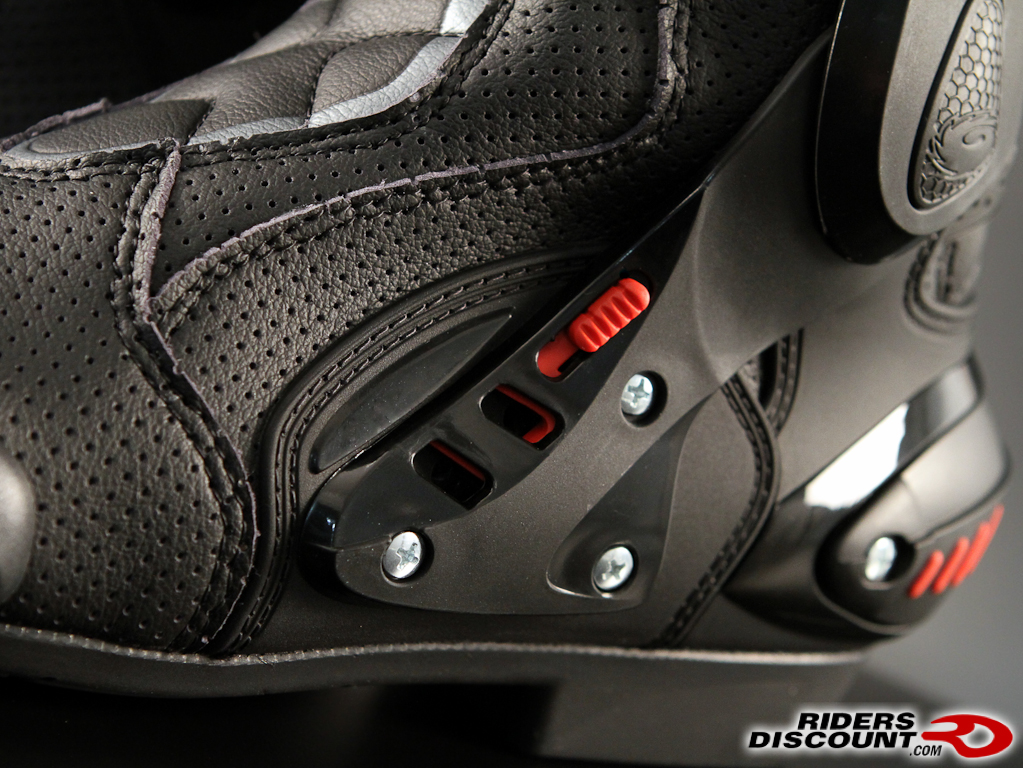 Two cam locks make getting in and out of these boots extremely easy.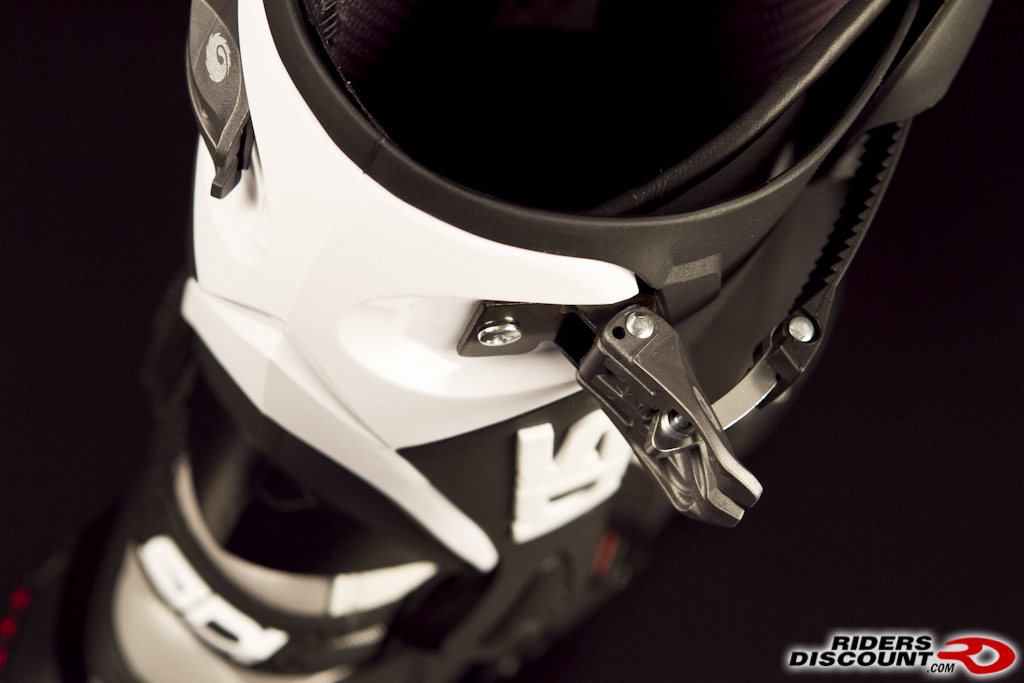 The durable TPU heel cup not only works as an external crash protector, but it can also absorb impact energy. It uses multiple densities of plastic, plus memory foam to allow 3mm of compression on impact.