A gentleman by the name of Mathais runs the place, I think. He races a '03 or '04 ZX6R and uses the LSL sliders himself. It cost me $134.40 with shipping and installation is pretty easy. No need to cut the ferrings as they have bracket that misses the left ferring.
The green crash pads matched my green 2005 ZX6RR perfectly, in fact they enhanced the look of my bike, in mine and my friends opinions. The blue crash pads appear to be slightly darker than Kawasaki's blue, but still compliment the bike well.
On the 2005RR i had the left bolt they give you to replace the engine mount bolts break. Spiegler sent me a new one at no charge and I sent them back the broken bolt for inspection. I did not check the torque specs when I torqued them back on. In addition, after I mounted them for the first time the left one came loose from the vibration; i re-torqued, again without a torque wrench and torque specs.
On my 2005 636 i've installed them according to factory manual torque specs.
LSL is a German company and Spiegler does brakes. I don't know too much else about them, but i'll keep everyone up to date as I learn more.
these pictures are all on the left side, and you can see you don't need to cut the ferrings, which is nice. you don't have to worry about cutting the ferrings on the right side, either.
its amazing how well the green matches!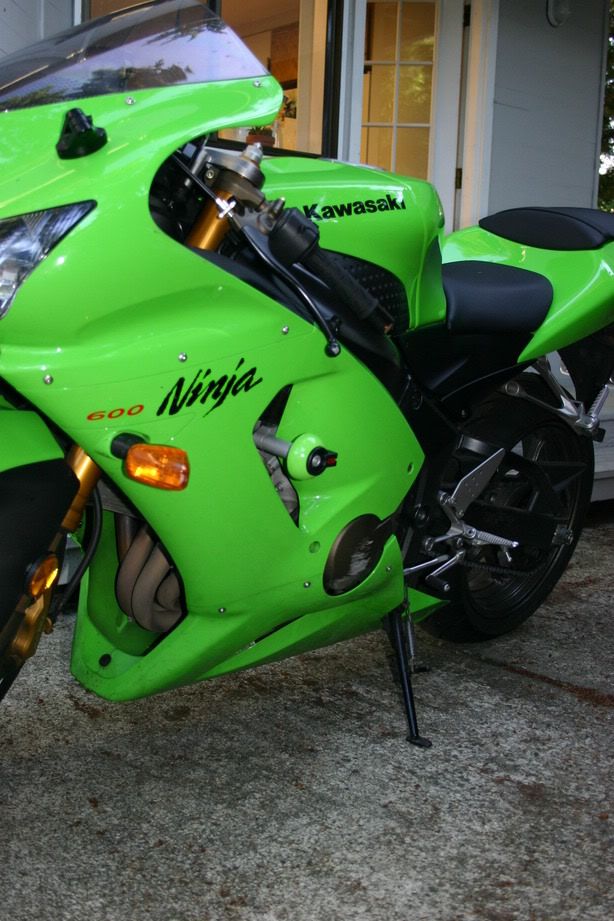 i miss her worse everyday...
~jafar