Discussion Starter
·
#1
·
The Power commander finally has some competition:scared The new Microsquirt combines both FI mapping and ignition timing all in one neat lil box.
It also has an external sensor that automaticaly adjusted your air/fuel ratio. The microsquirt will run about $400 and should be for sale anytime now. I just coppied and pasted this from the website but heres the link cuz i think some stuff got left out
http://www.microsquirt.info/
Introduction to MicroSquirt
MicroSquirt is a fully-assembled surface mount technology (SMT) version of the MegaSquirt fuel injection controller and is most like the MegaSquirt-II and V3 main board assemblies.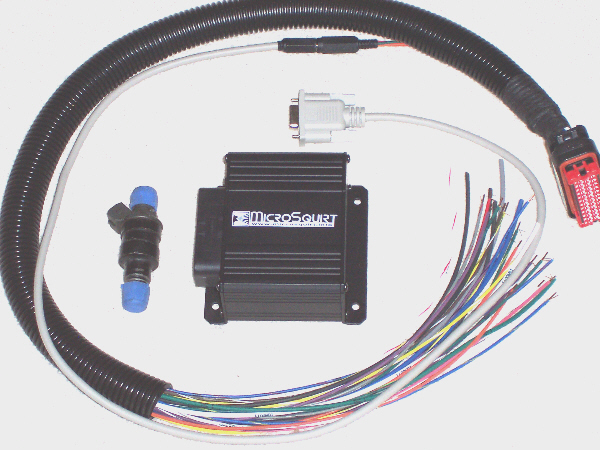 MicroSquirt can use the same embedded code as MegaSquirt-II, and you can use any of the V2 code versions intended for the C64 version of the processor. However, MicroSquirt has a few of it's own specialized hardware functions (dual spark is the main function) and these are only implemented in code version 2.8 and higher.
MicroSquirt is essentially the same as the MegaSquirt-II/ V3 main board. It can use the same internal embedded code, tuning software, and ignition systems.
The main differences between MicroSquirt and MegaSquirt-II are the ignition input and output polarities, the injector drivers, MAP sensor, the FIdle capabilities, and connectors (the VR circuit is also different):
Dual Spark capability: The major new feature in MicroSquirt v2.822 embedded code is the capability to use two inputs and two outputs for ignition. See this document for more information.
Input polarities are reversed, because there is an extra transistor in the hardware. This means that where the MS-II documentation says to use 'rising edge' for MS-II, you use 'falling edge' with MicroSquirt, and vice versa. This is usually noted in the documents themselves.
For example, for direct coil control with a MicroSquirt, you set the parameters in MegaTune to:
Coil Charging Scheme to 'standard coil charge',
Spark Output to 'going high (inverted)'.
No pulse width modulation (PWM) to limit injector current. The fuel injector drives will max out at 5 amps each, enough to drive one low-impedance (or 4 high-impedance) injector per bank. To get everything to fit without lots of heat sinking, MicroSquirt uses the ST VND5N07 from STMicroelectronics to drive the injectors. This is not a 'peak and hold' driver, but it does clamp the current at 5 amps, so it can be used with one low-impedance injector per bank, however the close time may be a tad higher (or you can use resistors). For up to 4 high-impedance injectors per bank, it should work fine. For example, for motorcycle use MicroSquirt will be perfect!
No internal MAP sensor. In order to shrink the 'footprint' of MicroSquirt, the MAP sensor was left off the board. An external MAP sensor, such as those from General Motors products, can be used instead. See the MicroSquirt hardware page for more information on MAP sensors.
No stepper IAC control: In order to make room for the dual ignition inputs and dual outputs, the ability to to control a stepper IAC was removed. PWM Idle valves, as well as on/off idle valves, can still be used.
Different connector and case. The MicroSquirt board uses the 35-pin AMPSEAL connector and a sealed case to make a fully sealed unit. Amazingly, the board is the physical size of a business card - connector and all. MicroSquirt's board size, including the 35-pin AMPSEAL connector, is very small - 2.4" x 3.5" (61mm x 89mm), just slightly bigger than a credit card.
Pre-loaded code: Unlike MegaSquirt-II, MicroSquirt comes with the embedded code already loaded onto its processor. You can still upgrade to newer versions of the code as they are released, of course, but you won't have to load the code initially to get MicroSquirt working.