Hi,
Ok some info here.
I repair and paint my bike myself i also try to do all mechanical stuff myself.
Details:I removed the buddy handles and closed the holes and i removed the (What you call it) winkers, ah i know now, turnsignals and closed the holes
(you dont need turnsignals if your always the fastest on the road hehehe)
I sprayed my bike black and i sawed of the rear mudflap thingy
i have also painted my taillight in a way that it looks like angry eyes with the lightbulb looking like a pupil,Very cool and very cheap!!!
I quess thats about it for now,but more to come in the future
This is the original,how i bought it.
After 2 weeks i crashed it and removed the decals as seen here.
Sometime later i painted it black and made it a streetfighter in honor of ghostrider.
(if you do not Ghostrider you'll want to download his movies,Believe me)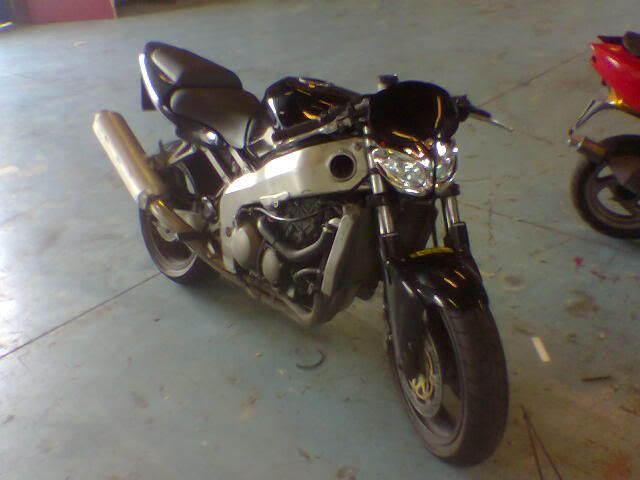 I decided i wanted the fairing back on there since i need my Ram Air intake.
Due to mechanical problems i ripped the engine out and my bike looks like this now 27-2-2007
In the summer i planned my bike to be Kawasaki Green Again so there is more to come.
BTW Yes you can ride the footpegs of your Kawasaki ZX6R 1999 to the ground but make sure you got HQ tyres and no i do not put my knee down to the ground,no need for that since i use my footpegs.
(cant wit till my bike rides again so i can feel the G-force when i put my pegs to the ground......I LOVE CORNERS!!!!!!!!!!)