after such a long time im finally ready to start my L model build.
i bought the bike about 4 years ago, soon after i got it the reg/rec packed up n the plug leads were shot. it ended up sitting outside under a cover for two years then in a garage for the other two years. life got in the way
i got the bike up and running at the start of this year but the fork stanchions had rusted and the brakes were seized. there was also a sticker on the frame where the right hand spar meets the cast section. curiosity got the better of me and i peeled it off. it was hiding a golf ball sized hole thats been filled with body filler.
the bike has a good engine and mint plastics, guess thats all im going to end up using really
so i decided to bring the bike a bit more up to date and have been collecting parts for a while now. heres the list of what ive got for it
new frame, probably going to be painted satin black
2015 zx10r big piston forks
zx9r rear shock, rebuilt and reworked by a previous owner. will be upgraded at a later date.
aprilia rsv wheels
ducati 748/916 brembo front discs
rsv swingarm
brembo rear caliper and master
2005 zx10r calipers tokico
2010 zx10r master cylinder nissin
zx10r clipons and switch gear
SPA design tacho and speedo
carbon front mudguard
braided hoses all round including clutch
aftermarket leavers of unknown origin, probably chinease
steering damper g-force i think
stainless headers of unknown origin, they have a balance pipe across them.
there probably a few other bits. the bike will have a carbon dash with the tacho, digi temp and gear display built in. will be trying to get the weight down as far as possible whilst keeping it UK road legalish (it needs a mot at least)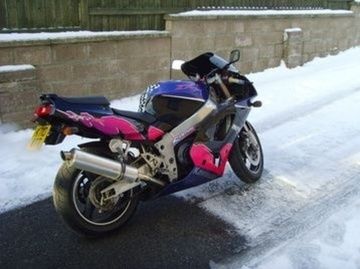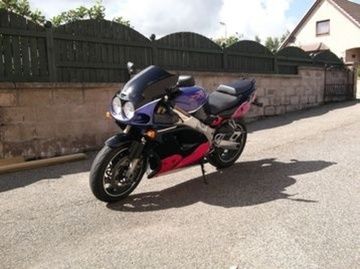 sorry for the shit pics of the bike, there the only ones i can find of it