Has anyone tried removing the silver trim that runs around the Givi V46 topcase, or another similar case by Givi? I don't see any screws. I'm wondering whether it would be flat in the rear if the trim were removed (i.e., so that it doesn't cut into my girlfriend's back)? I didn't see anything on Google about removal of the trim for this type of topcase. I'm not too keen on the potential installation of a gel-pad that would attach to the topcase, because many people have found that it pushes the passenger and pilot too far forwards. There is almost no clearance between the topcase and the passenger, and the gelpad would certainly push the passenger a couple of inches forwards.
Yesterday, I made some steel brackets that move the Givi V46 topcase about 12" towards the rear of the bike, but I'm not happy with the result. The topcase overhangs substantially, and might even obstruct the view of the brake light if a tailgater were sufficiently close and high up off the ground. The modification permits me to have the Corbin backrest, and also open the Givi topcase (which needs additional clearance to open due to the backrest). However, there is a large gap between the backrest and the topcase when it is closed. I saw a picture of someone who had modified the backrest somehow so that it could also filp / tilt forwards, permitting the topcase to open -- however, this would mean that the backrest is loose and would logically have to lean against the topcase (that would also have to be adjusted with a special bracket to be just the right distance).
I haven't purchased this lighting kit yet, but this might be a potential solution to one of my concerns about the topcase obstructing the view of the tail light.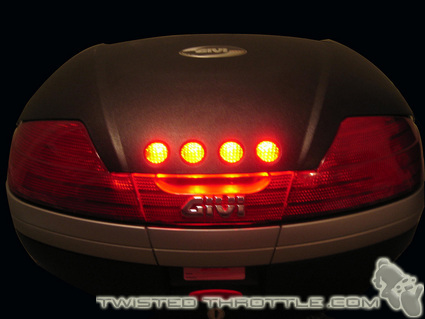 My next design will be to move the topcase backwards a few inches from the SW-Motech mounting bracket and then raise the height of topcase to the point where the top half is above the backrest, so that it opens without touching the back rest (but is still as close as possible to the rear of the back rest without touching). Here is the first draft, which does not raise the height (and that is why it needs to be farther away from the backrest).