The ZX Forums Ride of The Year Champions Garage
---
This thread will house and honor the ZXF member's who entered their special motorcycles in ROTM contests and battled to become Champions of the prestigious ZXF Ride of The Year contests.


Forever shall they be on display in the ZXF Ride of The Year Champions Garage!
2015 - ccmhunt's 1996 ZX-7RR:
Quote:
KIT =Kawasaki official race kit parts Factory = Works parts made for/by WSB team
Factory works engine cases
Kit type D tranny
Kit tranny shafts
New shift forks and drum
Factory works crank
Kit TI PANKL rods
Kit crank and rod bearings (new obviously)
Factory works small pin, single ring pistons
Kit rings (new)
Kit cylinder (new)
Kit Gear drive (new)
Factory works head
Kit valves
Kit valve springs
Kit valve retainers
Kit cams
Kit cam gears
Kit crank gear
Factory works intake manifold
Kit carb clamps
Kit cam tensioner blockoff (new)
Kit alternator blockoff (new)
Kit starter kit blockoff (new)
Kit water pump
Kit oil pump (new)
Kit engine guard (new)
Kit oil line (new)
Kit gaskets (new obviously)
Kit clutch cable conversion (new)
Suter dry clutch
Kit oil pickup strainer (new)
Kit magnesium oil sump cover
Kit magnesium valve cover
Factory works ignition cover
Factory works tranny cover
Factory works oil cooler (new)
Kit water manifold (new)
Kit radiator fittings
Custom TI hollow engine mount bolts
Factory ally black anodized engine mounts
Factory works ex Doug Chandler radiator
Kit radiator brackets
41 fcr with kit carb kit installed (new)
Factory crankcase pressure cover (new)
Kit switch plug (new)
Kit endurance lift tube
Kit carbon fiber intake tubes
Carbon fiber airtray
Kit wire harness (new)
Kit cdi (new)
Kit ignitor (new)
Kit fuel pump relay (new)
Kit tipover switch (new)
Kit wire lead (new)
Kit stop/run switch (new)
Kit coils (new)
Kit coil bracket (new)
Kit spark plugs
Factory battery box
ZX7RR race team frame (not Factory)
Factory subframe
Works frame blocks
Kit top shock mount/ride height adjuster
Ohlins works shock
Factory works swingarm
Factory adjusters
Factory lift hooks
Blue anodized quick pull cup
Marchesini works rear wheel
Works sprocket carrier
DID 520 green chain
Brembo P2 rear caliper with TI pistons
Factory caliper bracket
Kit linkage and plates/TI bolts
ZXRR Motogp bike rear sets
Factory endurance race tank
Factory rear tank mount
Factory front tank mount
New fuel pump and filter
Factory upper fairing brace
Factory lower fairing stays
Factory quick release pins
Factory front instrument bracket/foam/rivets
Factory tach with temp display
Works Magnesium Ohlins steering damper
Magnesium upper triple clamp (adjustable)
Magnesium lower triple clamp
AP dual piston front brake reservoir system
Ohlins WSB FG96 forks rebuilt by Dan Kyle
Brembo front rotors
Marchesini magnesium front wheel
Brembo front calipers (rebuilt)
Akropovic 60mm superbike full TI exhaust
Akro carbon fiber exhaust hanger and strap
A-tech carbon Kevlar works Ex Japan superbike Yanagawa fairings
Carbon fiber undertail
MRA ECKL WSB screen w/works push pins
Kevlar intake reducers
2016 - Subzero's 1993 ZX7 L1:
Quote:
I would like to enter one of my bikes into the ROTM contest!
1993 Kawasaki Ninja ZX7 L1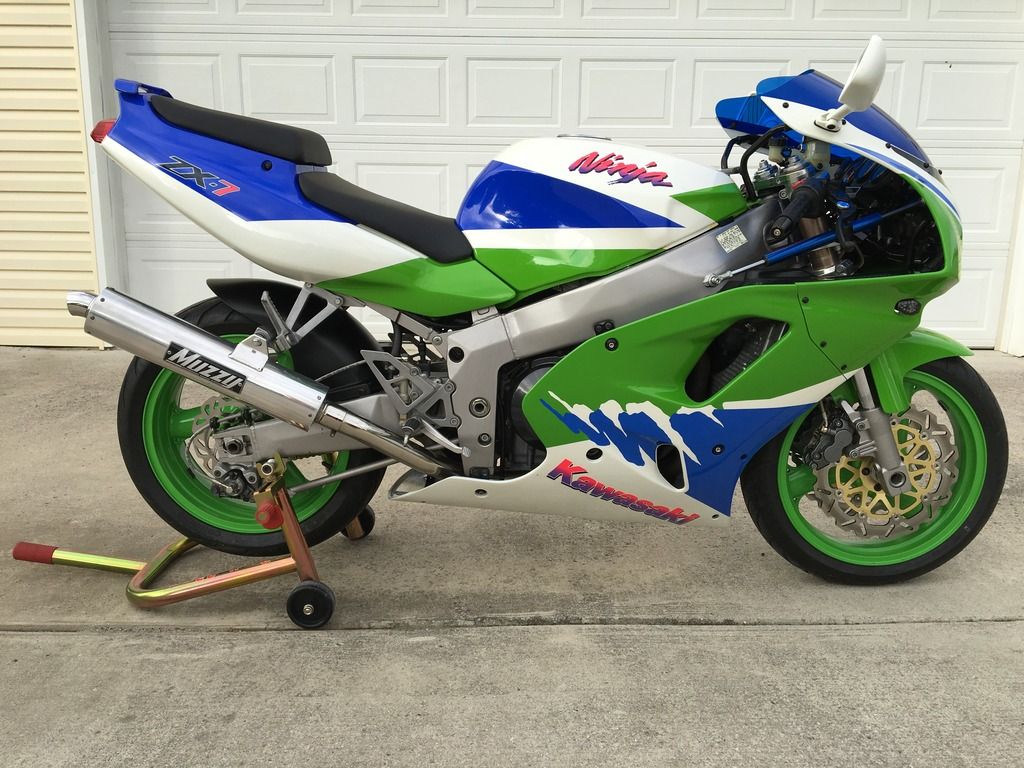 Fresh paint job on upper, lowers, fender by Artistimo Custom Designs! Outstanding job!!- OEM decals for the Kawasaki on the lowers but the blue squiggles have been painted on now which is better since Kawi originally used decals and they would always crack and discolor due to the heat from the exhaust. Lowers have been cleared over the decals as well to protect them. Upper has the black and the blue decals painted on now which looks awesome.
New Continental tires F&R
Fresh powder coating on the wheels with new bearings, new hub bearings as well (All Balls)
New cush drive for rear wheel
New Pro-Tek swing arm spools
New wave guide style rotors F&R
New SBS brake pads F&R
Galfer SS braided brake lines F&R and hydraulic clutch line also
New Vortex rear 46T 520 sprocket
New Vortex front 16T 520 sprocket
New DID 520 gold chain
Full Muzzy exhaust with new copper exhaust gaskets
Factory Pro jet kit
K&N air filter
Headlight bracket, gauge mount, upper fairing mirror stay & various mounting brackets have fresh gloss black powder coating
New front led turn signals
New windscreen & mounting hardware
New Emgo mirrors
New bar ends
New brake & clutch levers
New grips
New carbon fiber triple tree cover
USB plug for charging phone
2017 - 57x's 1995 ZX-7R Crevier Muzzy Superbike:
Quote:
1995 ZX-7R Crevier Muzzy Superbike
I got the bike in rough shape, missing some critical parts including fairings. Fortunately, I picked up a real Crevier superbike fairing set when I was up picking up all the other parts from Muzzy a while back. I had many of the missing parts in my parts stash to complete this bike, and sourced some others. This was not cheap exercise, but well worth restoring one of the few COMPLETE M superbikes left anymore. Still way less than a ZX10RR or H2.
I starting stripping it apart, cleaning everything and assessing what was missing. I then started polishing the frame, swingarm, etc., damn, that is hard work. As you can see in the pics, I layed everything out to confirm I was ready to start building. I assembled as many parts on the frame as I could before lowering the frame over it. Assembly is a painstaking task, leaning heavily on friends that know how these bikes go together. It is quite different than the street bike version.
Parts on the bike that I can remember. When I list Factory, it means KHI Factory Works. These parts were only available to the Factory teams:
- Factory Frame, upper fairing stay, gauge holder, clutch lever/cable, Ohlins shock, Ohlins damper
- Factory engine with magnesium covers including cable clutch transmission cover. Internals include Factory cases/head/crank/cams/rockerspistons/oil pump, Kit rods/transmission/valves/valve springs/retainers/clutch basket
- Muzzy Manufactured/Modified Swingarm, Subframe, battery tray, radiator brackets, side/lower fairing brackets, aluminum race fuel tank with carbon fiber cap, suspension link/dogbones for Factory shock, full titanium race exhaust for Factory engine (quite different than Muzzy retail exhaust, race carbon fiber fairings, gull wing triple clamp
- Kit tach, temp gauge, radiator, airbox, rear brake caliper/rotor, rearsets, front/rear wheel, rear quick release axle, front axle, sprockets, harness/CDI/Ignitor/coils/sensors, raised swingarm blocks
- Ohlins FG9400 Superbike forks with AP brake master/front calipers/rotors
- Muzzy kitted FCR 39s with race throttle
---
Last edited by Blue; 01-02-2018 at

07:46 AM

.
Maybe if I keep making threads and take over the forum with ROTM/ROTY stuff more people will participate
Posting Rules

You may post new threads

You may post replies

You may not post attachments

You may not edit your posts

---

HTML code is Off

---