Newbie
Joined: Jan 2008
From: Valdosta, Ga
I Ride: 1993 ZX-11
Posts: 11
Wrecked my '93 ZX11C Looking for parts..
---
I am in need of help. I need a website to find parts for my '93 zx11 C Model. I am in need of the following:
Upper Fairing
Headlight Casing
Wheel Cover
Front Rim
Front Blinkers
Not bad for T-Boning a Toyota Tacoma. I cannot wait to get this thing driveable again! I can deal with the scratches on the bottome fairing for now. any links out there for this stuff? I have searched ebay already with no luck.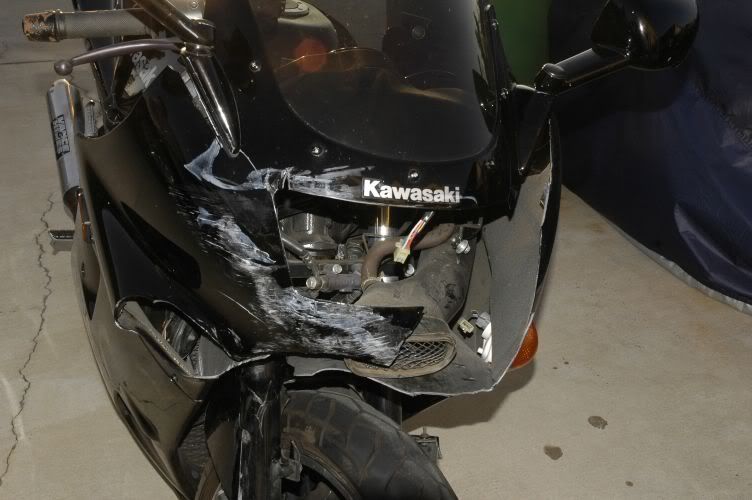 Senior Member
Joined: Sep 2007
From: Florida
Posts: 405
what about the fork tubes and legs ????

check your PM
---
Last edited by rsr; 05-01-2008 at

04:58 PM

.
Newbie
Joined: May 2008
From: New Jersey
Posts: 3
I have a headlight casing! Make me an offer.

Wil
I have this stuff. PM me if interested.
There is some road rash but considerably better than what you have now.
---
Quote from a Kaw mechanic (my dad)
"Great idea, buy your kid a ninja for his last birthday."
ZX-11 C body parts regularly come on to E-bay. I bought an upper fairing and the left fairing. The upper had cracks along the left turn signal opening. It took a lot of time to repair them.

A few days after I promised to buy my fairings I found a very nice set on E-bay. The price was about 35% more than I paid for mine, but in the long run it would have been the better buy.

I'd try and find an excellent set, if you can.
---
Last edited by ejmesq; 05-04-2008 at

04:25 PM

. Reason: spelling
Newbie
Joined: Jan 2008
From: Valdosta, Ga
I Ride: 1993 ZX-11
Posts: 11
Thanks for the responses guys! I have replied to the last two guys that had pictures of parts as I could definitely use them if the price is right. My forks and everything is fine, I just need the Frnder, Rim, light assembly and upper fairing. I sent a PM to Kawi_T and Willstruck.

I found a straight rim in Ohio at a salvage yard for considerably less than my local salvage yard.

Thanks again!

Mark
Newbie
Joined: Jan 2008
From: Valdosta, Ga
I Ride: 1993 ZX-11
Posts: 11
I have decided I am just going to let the insurance company take the bike. I was going to fix it and Kawi_T and Willstruck gave me great deals on parts that i would a retard to not take, call me dumb, but I am gonna get out of the crotch rocket scene for a bit and just enjoy my cruiser and spend the money on upgrading parts on it. Thanks again for all the time and effort you all have put into helping me with parts. I will not be a stranger around here and hopefully can help one of you out one day. Thanks again!

Mark
Posting Rules

You may post new threads

You may post replies

You may not post attachments

You may not edit your posts

---

HTML code is Off

---