Official June ROTM Entry Thread
---
New ROTM Format!
** The new format will be an 11 month ROTM contest. Each monthly winner from January to November will be entered into a final poll in December for everyone to choose their favorite bike for the RIDE OF THE YEAR (ROTY). **
The winner of the ROTY will win a zxforums.com t-shirt with their member name/bike and ROTY Champion on the back.
Assuming product and vendor is still available - if not we will think of something else for a prize.
-All bikes entered must belong to a ZXFORUMS.com registered member.

-All competitors must have at least 50 posts to enter the competition. We want to ensure prizes and glory go to real members of our forum.

-You must post a picture/pictures that everyone can see. No links!

-We would like to have some info on the bike, including year, model, mods, maybe a little story about the you and the bike.

-If the bike has won a Ride of the Month contest during the current ROTY campaign then you cannot enter that bike again. If you've got a new bike done differently...alright, I'll allow it.

-The entry must be a Kawasaki.
Once the deadline has passed, I will copy the entrant's posts to the voting thread to make voting easier. Also they will be added to the ROTY Voting Thread.
[B]
As always, the voting will be done in a separate thread found
HERE
GET YOUR BIKES IN - ENTER NOW
---
Last edited by Blue; 06-01-2015 at

05:55 AM

.
Early entries get a prize
Senior Member
Joined: May 2010
From: Brick, NJ
I Ride: 2013 ZX14R, 2017 Z650
Posts: 8,388
This is my basically brand new 2013 ZX-14R. My wife put it on layaway for me back in October as a wedding gift and I took delivery this March '15. So far it has :
Fender Eliminator
Puig Racing Windscreen
Cox Radiator Guard
Graves Slip-on Exhaust
Shogun Frame and Spool sliders
PCV
BMC Air Filter
Have a set of Pazzo levers sitting here to install but haven't gotten to it yet. Oh well there's always next year!
And that's it I think. Enjoy the bike porn!
---
Sir Jersey Shore Guido Lippin, Unnatural Gassin, 6R Snow Blowin Whore Of ZXF
---
Last edited by Blue; 06-01-2015 at

06:26 AM

.
mpskowski88's 2013 ZX-14R has been added to the poll!!!
Senior Member
Joined: Oct 2010
From: Peachland, NC
I Ride: 1996 Ninja ZX11, 1990 Ninja ZX-7 (sold but not forgotten)
Posts: 152
ZombieX-11
---
Here's my '96 ZX-11D. I got the bike last year from a guy who was going to part it out due to crash damage. I took it off his hands and began the reconstruction. It wasn't in too bad of shape mechanically with most of the damage cosmetic. It would crank and idle but wouldn't rev so I had to clean the carbs of course. Once I had the carbs right I had to get the cooling system back into shape. Luckily there was a shop close by that had a couple of salvage bikes that I raided for the pegs and small parts. Got a good deal on an unknown 4 into 1 on e-bay to replace the mangled stock cans. Now she was slowly returning from the dead. She was operational but not too pretty, looking like a half decomposed zombie with her busted fairings and all. Thanks to a bike I had had before I had some left over fairings from a light tip over that I had held onto when insurance replaced them back in '97. (That is a big win for the "I better hold on to that, I might need it some day. crowd.) I sourced the remaining stuff I needed from e-bay and C-list along with some decals from an overseas company. I really wanted OE but I couldn't bring myself to pay almost $100.00 for each Ninja so I think these work just great. I built a spray booth in my driveway out of pvc and plastic and the paint is duplicolor paint shop "Candy Apple Red". I think it turned out pretty good. She may not be the youngest gal at the ball, but she'll still turn a few heads. That being said I would like to submit my ZombieX-11 for ride of the month.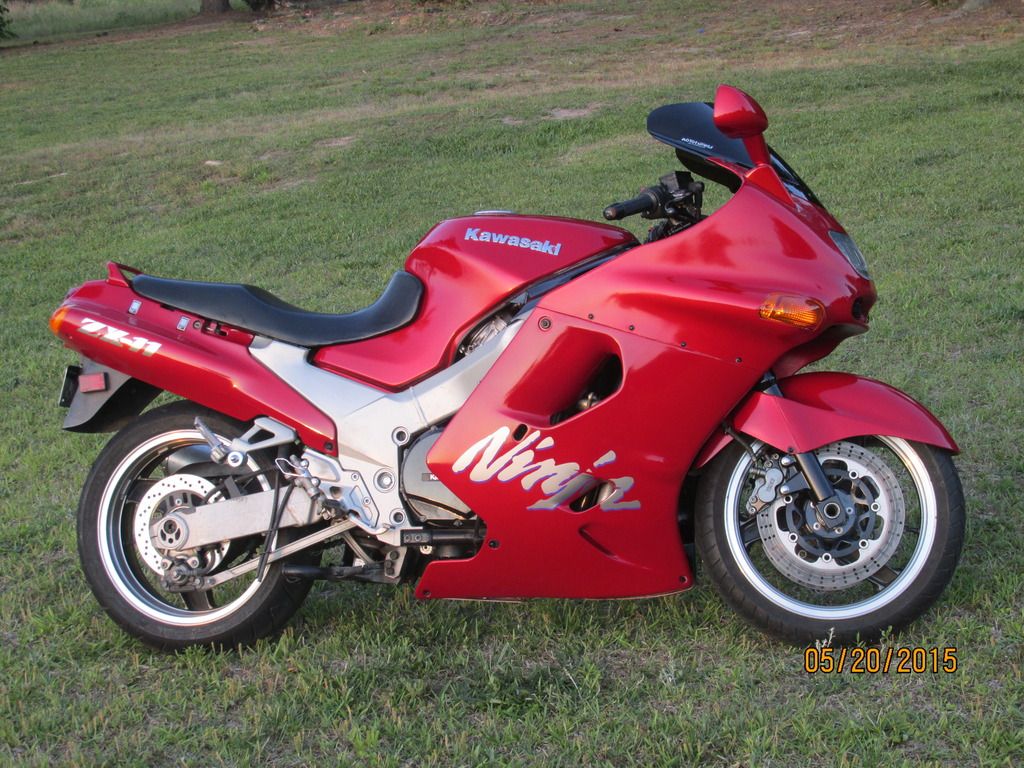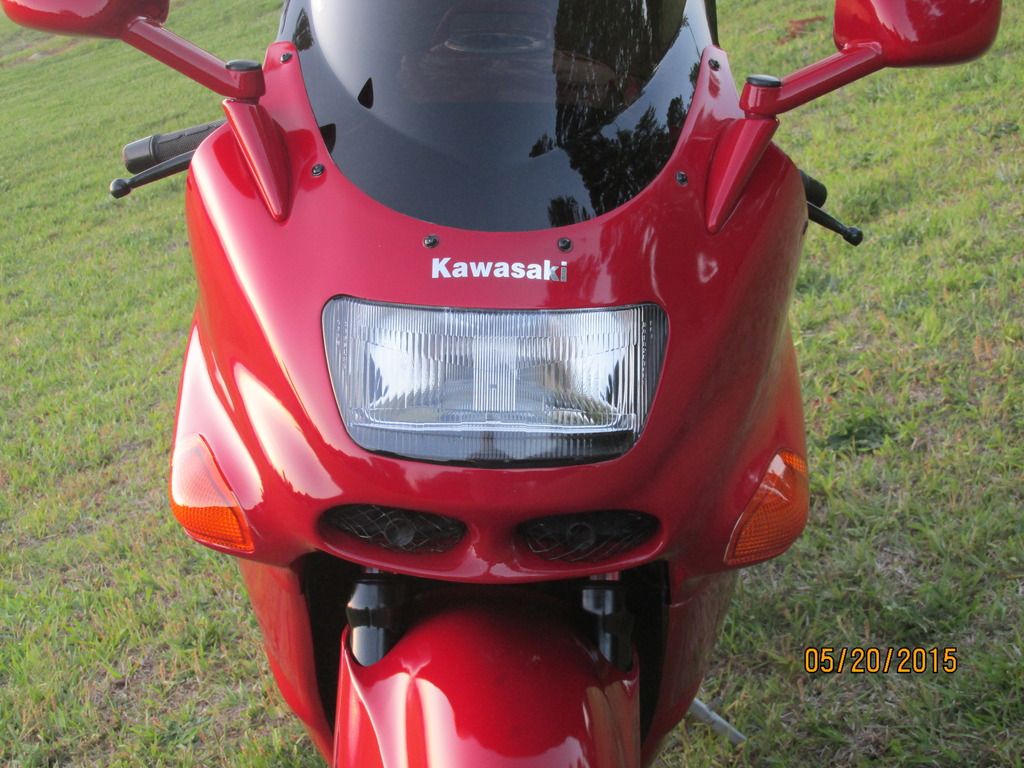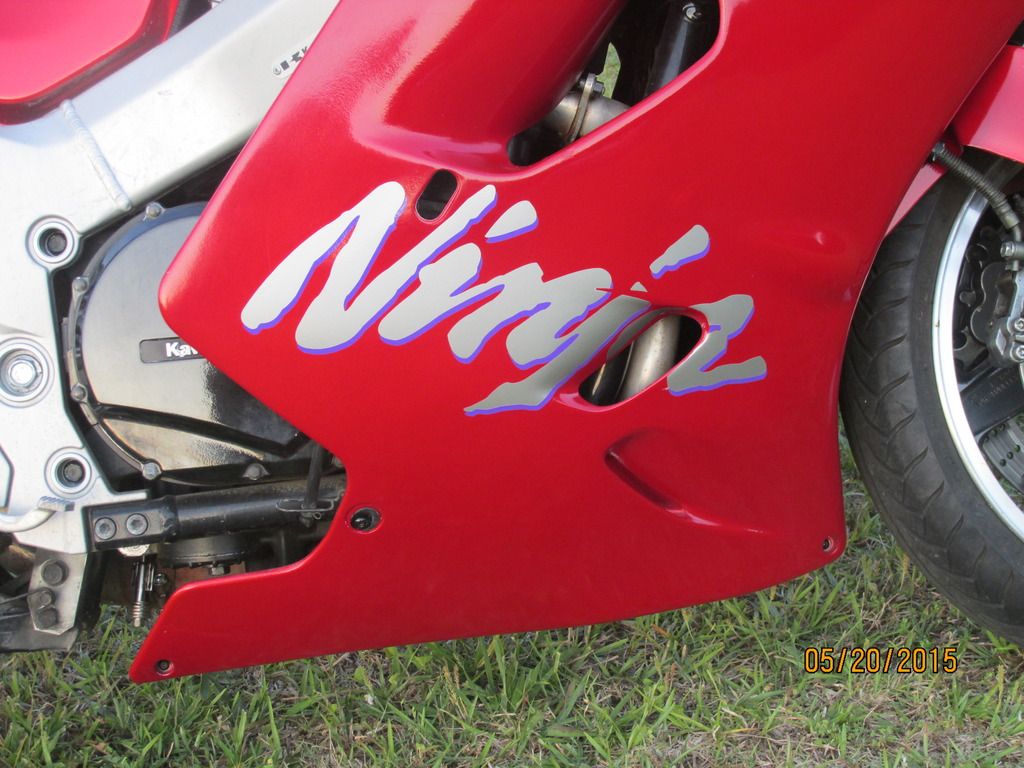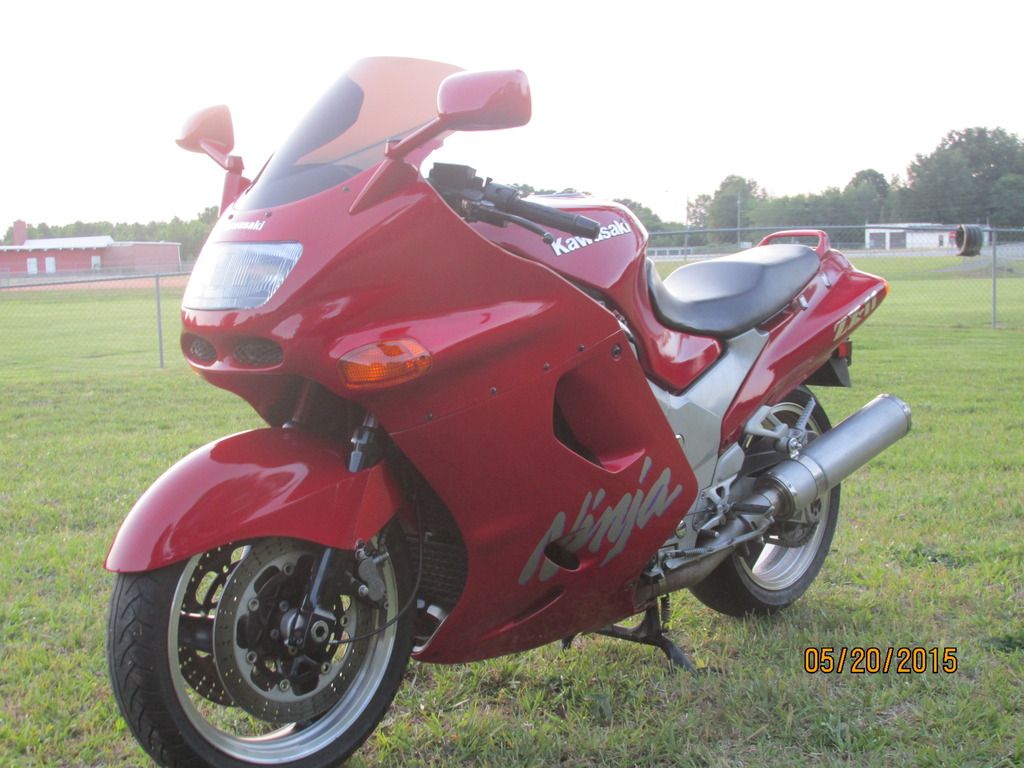 ---
Last edited by corsair231; 06-03-2015 at

05:14 PM

.
corsair231's 1996 ZX-11D has been added to the poll!!!
Quinton Phuckin Tarantino
Joined: Nov 2010
From: Surprise , AZ
I Ride: 08 zx14, 96 cbr 900rr
Posts: 18,914
Can we vote yet?
---
Sir 14 Thrashin, Sometimes Peg Scrapin, Electrocutin Greasmonkey Whore of ZXF
Senior Member
Joined: Mar 2015
From: New Jersey
I Ride: 2014 ZX-14r, 1984 Honda Sabre v65
Posts: 1,548
Bike Name: My Mistress
2014 Kawasaki Ninja ZX-14R
Ebony/Red
Back story...
I was really looking to buy a '14 Connie but after seeing this one in person and also the dealer price, I couldn't pass it up. My ultimate dream bike was always the Busa ever since it came out. I was straight up looking for speed and with hopes to drag race the bike. But when I saw the 14 at the dragstrip, I knew this was the bike for me. So here I am, got a sweet bike that is mad fun to ride and will get to the track next season since it's still a baby on odometer
Modifications:
Zero Gravity double bubble dark windscreen
Two Brothers VALE2 Carbon Fiber slip ons
Red heel guards
Red rear pegs
Red rear exhaust brackets
Customized Bike Parts tail delete painted red
Thanks!!
---
Last edited by bungles; 06-09-2015 at

11:57 AM

.
bungles's 2014 ZX-14R has been added to the poll!!!
Lets get a couple more entries! Get your bikes in now for chance to get into the ROTY contest!
Posting Rules

You may post new threads

You may post replies

You may not post attachments

You may not edit your posts

---

HTML code is Off

---