Senior Member
Joined: Feb 2010
From: Spanaway WA
I Ride: 2006 ZX14/2009 KLR/2013 Concours
Posts: 773
Brake tech 330mm rotors
---
Installed them today on my new C14. Since they have the same brakes as my ZX14 and mine warped (zx14) at 3300 miles I decided to beat the warping and insatll the new brake-techs. Have had them on my ZX14 for over 60,000 miles w/o any issues.
Since the C14 is a much heavier bike I got the Big Rotor Upgraded to 330mm rotors. They are large for sure.
Trip coming up in a few days and will see how they do. Taking it easy on them since they are new.
Longer caliper bolts and spacers to push the caliper out the desired amount.
You can see the spacers in the picture.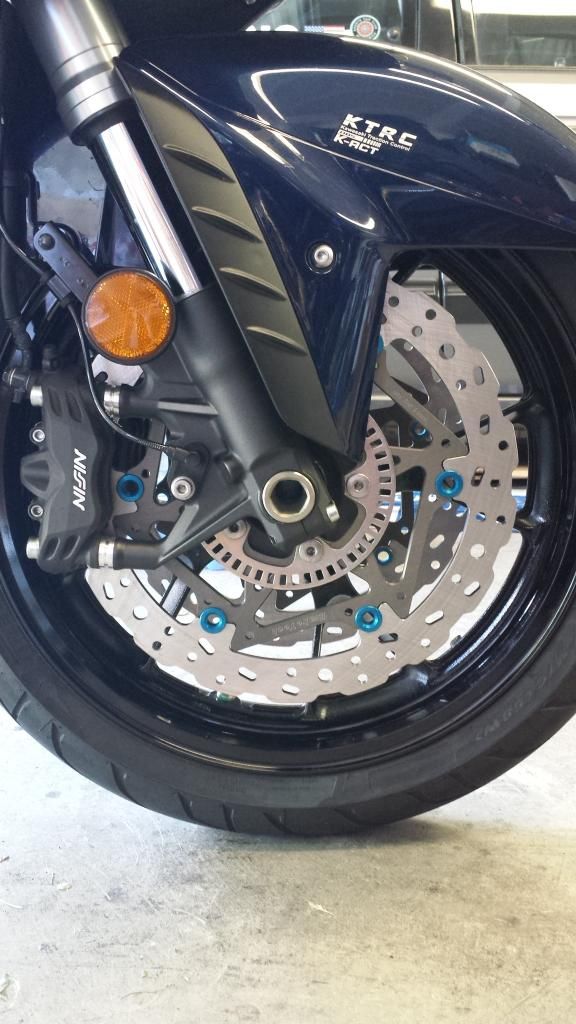 Very cool kit. First 330's I've seen on a street-going bike.
---
It may be a pig, but it's a pig with a rocket in it's ass!
Quinton Phuckin Tarantino
Joined: Nov 2010
From: Surprise , AZ
I Ride: 08 zx14, 96 cbr 900rr
Posts: 18,914
Looks like a nice kit, I'd love to hear your first impressions of it.
---
Sir 14 Thrashin, Sometimes Peg Scrapin, Electrocutin Greasmonkey Whore of ZXF
Senior Member
Joined: Feb 2010
From: Spanaway WA
I Ride: 2006 ZX14/2009 KLR/2013 Concours
Posts: 773
Break in ride to work and back today. Feel good overall, not truly broken in but I LV for ID/OR/WA 2500 mile trip in a week so will get a good impression.

This 330mm Brake Tech rotor is the big brake kit for the ZX14. Same brakes between the 2.

So far I am happy, but few miles overall. Same but stock sized rotors on my ZX14 are going well after 60K miles.
Posting Rules

You may post new threads

You may post replies

You may not post attachments

You may not edit your posts

---

HTML code is Off

---