Senior Member
Joined: Feb 2010
From: Spanaway WA
I Ride: 2006 ZX14/2009 KLR/2013 Concours
Posts: 773
New seat
---
I have/had a Saddlemen seat on the ZX14 I have been trying out. I was using the stock ZX14 seat on my new GTR1400 because it was lower and was firmer than the stock GTR seat.
I swapped the new Saddlemen seat to the GTR and put the stock ZX14 seat back on the 14.
Will see how I like it on the GTR for a while.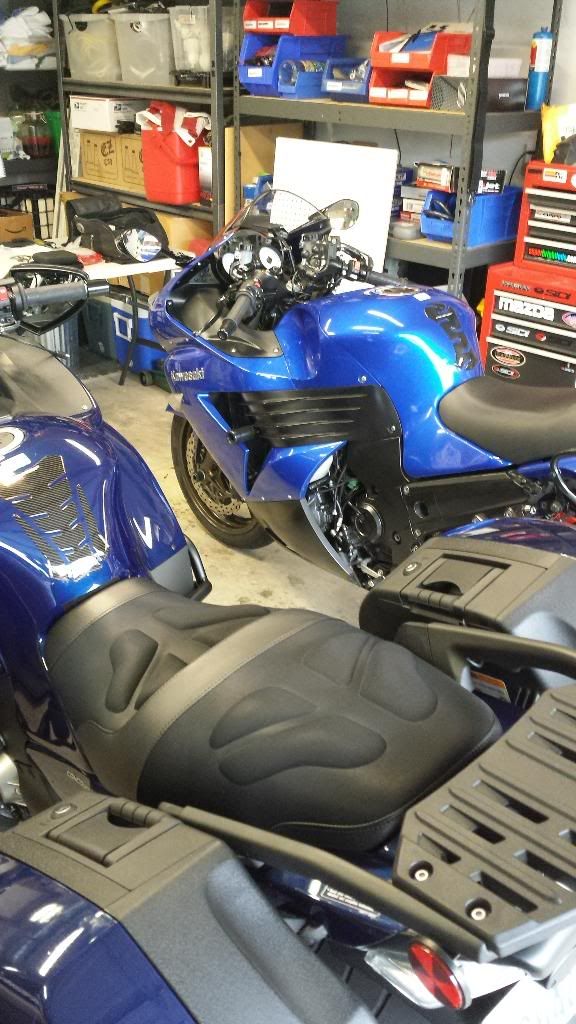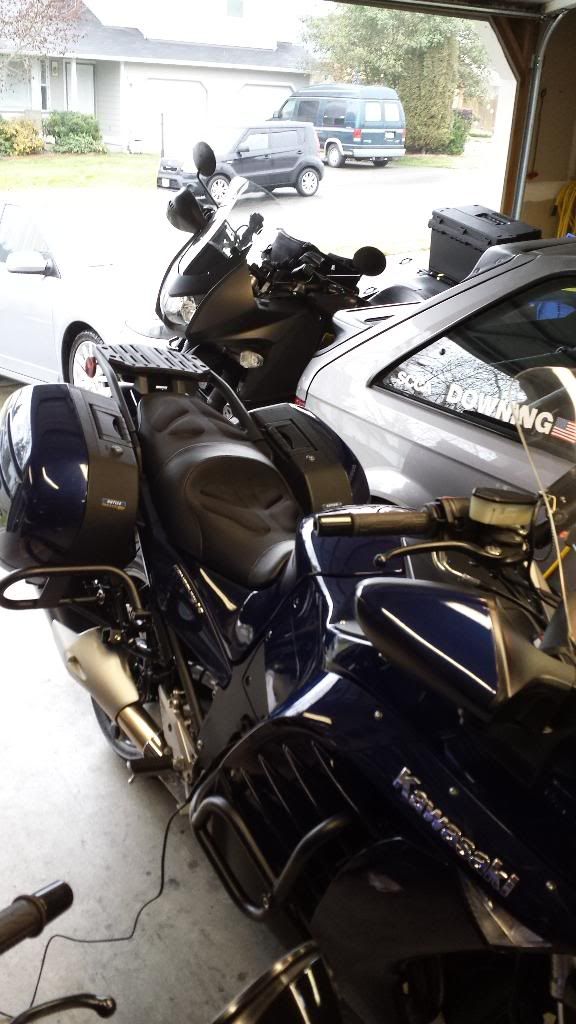 Senior Member
Joined: Sep 2013
From: The East Side
I Ride: ZX14-R: Former bikes --> 2001 929RR, '04, '06 & '08 1000RR and '08 GSXR 1000
Posts: 3,638
Newbie
Joined: Mar 2007
From: San Diego, CA.
I Ride: 2008 C-14
Posts: 16
I would like to know if the saddlemen seat is any lower than stock. I have a longer inseam and don't want a lower seat. I would also like to know if the front of the seat is higher than stock cause I hate sliding down on the tank and scrunching the raisins if ya get my meaning. I'm 5'11 with a 33" inseam. I put on lowering pegs from Murphs kits and they have helped but I may get a full on custom seat from one of the Mayer bros. That is unless the Saddlemen is awesome and a great price.
Senior Member
Joined: Mar 2012
From: Meridian, ID
I Ride: 2008 ZX14. R.I.P. 1999 ZX9R. 1996 Honda CBR F3 Smokin' Joe's.
Posts: 3,675
His much did that seat cost? I need to lower my 14 and been looking into getting my suspension adjusted and a lower seat. I do not know how to shave my seat where it would be even. I would try it if I had a extra seat to mess with. I am only 65 in chess tall. I am on my toes right now.

To some people its a rocket.
To others it's freedom. (R.I.P 1999 zx9r, 2008 zx14)
---
Sir ZX14 Thrashin', No Sleep Needin', Fash Bike Havin' Slow Whorin' Post Whore of ZXF!

Current 2008 ZX14 Atomic Silver.
Mods: KR Tuned Slip ons, PCV, Autotuner, Custom built by me or autotuned Jeffo Maps Muhahaha suck it Jeffo!, secondary butterflys removed.
Winter 2018 Mods: 2006/2007 Exhaust Manifold
R.I.P 1999 ZX9R. I will honor you with hanging up a part of your fairing in my garage.
Senior Member
Joined: Feb 2010
From: Spanaway WA
I Ride: 2006 ZX14/2009 KLR/2013 Concours
Posts: 773
This seat sits a bit lower than a stock one. But I sat on it for 2250 miles in 5 days and its one of the most uncomfortable seats I have been on. The forward stitching raised section creates hot spots and the raised memory foam does the same. The raised sections never really smooth out and feel like lumps under my ass. Also the seat material is very smooth and slippery and your ass moves too much under throttle and braking...constantly sliding. The seat also has a slight tilt forward that pushes your ass towards the tank.

I am going to have the raised sections removed and the forward stitching removed so I have one seamless section of grippy material and no hot spots.

Otherwise, my stock ZX14 seat has been the best I have ever had on the 14 and GTR
Posting Rules

You may post new threads

You may post replies

You may not post attachments

You may not edit your posts

---

HTML code is Off

---