Congrats to the Jan 2017 ROTM Winner - Spearzy and his '94 ZX7 L2!!!
---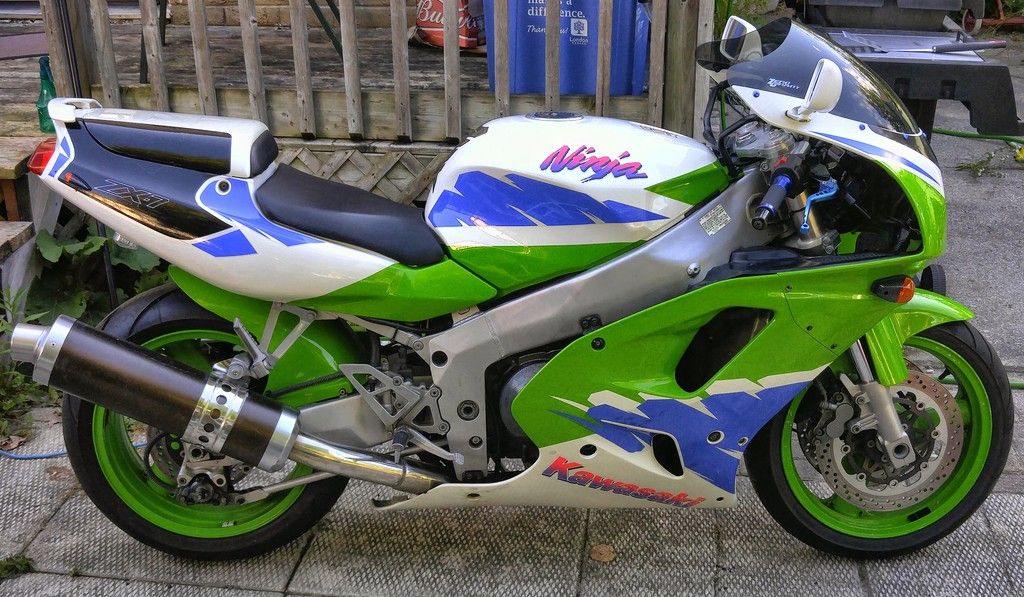 Please help congratulate Spearzy and his 94 ZX7 L2 for winning the first 2017 ROTM contest and being entered for the 2017 ROTY Championship!
Quote:
I'll throw my hat into the ring. It's not a nut and bolt restoration but I have basically touched everything to make this bike really quite a nice example again.
It is a 1994 ZX-7 L2, I've done touch up painting on every cosmetic panel and new decals on the front cowl and tail.
New windscreen, new grips and levers, mirrors, new flushy turn signals/LED signals in the tail.
New chain, sprockets, tires (not pictured, just did that while in winter storage)
New Cams, 8 out the 16 followers also (worn needed replacing)
This bike is a driver, to be enjoyed, but also pretty.
I very much look forward to turning this machine loose this March, and continuing my progress as I go. (Micron full exhaust system later this year and jetting)
Thanks for your consideration! Gotta keep the classics going :)
A little back story about myself, I grew up on motorcycles, I raced motocross as a teen and had a few sport bikes in the 1990s (mostly 2 stroke, RG Gamma for example). After about 15 years of life without riding I am finally jumping back in and bought my dream bike. I've put more money into this machine than resale would dictate is sensible, and it isn't stopping anytime soon. I'm by title the 8th owner of this machine and plan on keeping this machine in my collection forever (I may buy more bikes never selling this). My inner 13 year old self would be very proud of what is going on here lol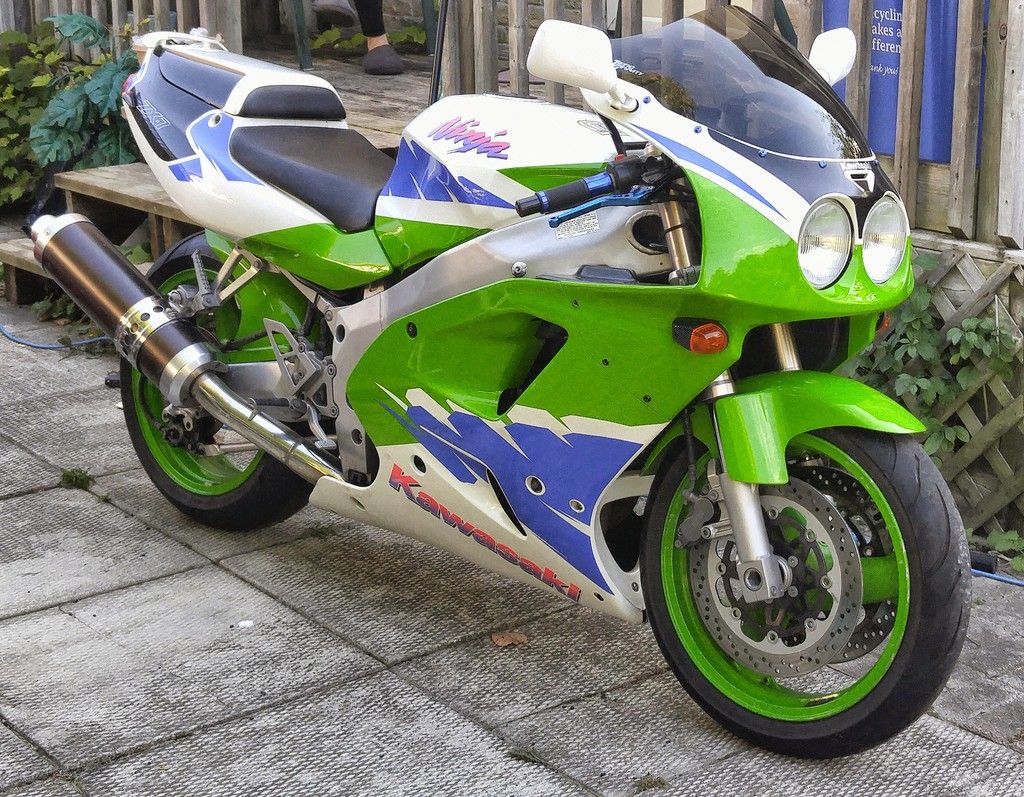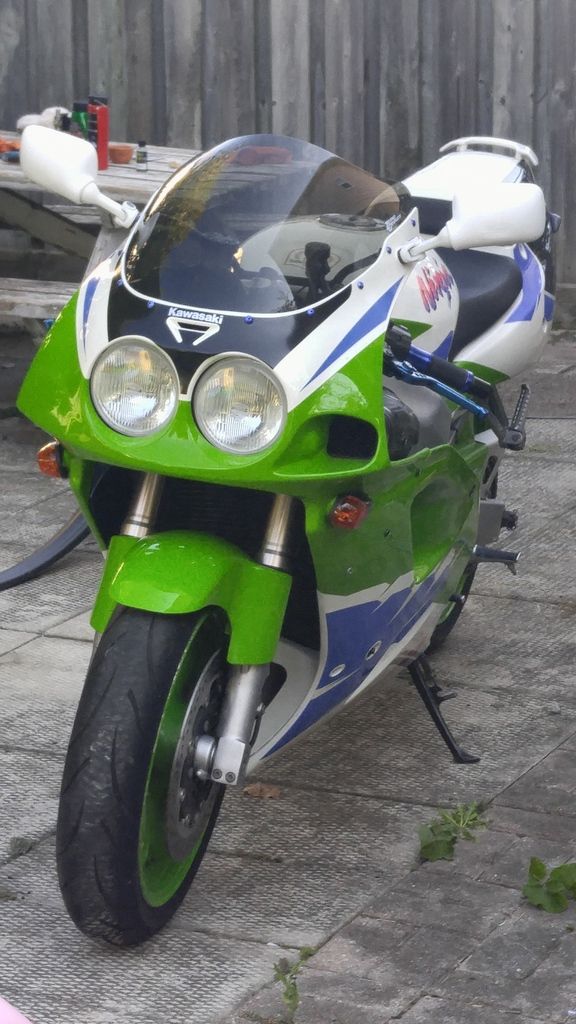 #1
Joined: Aug 2008
From: Lake Havasu City,AZ USA
I Ride: 2014 ZX14R
Posts: 54,618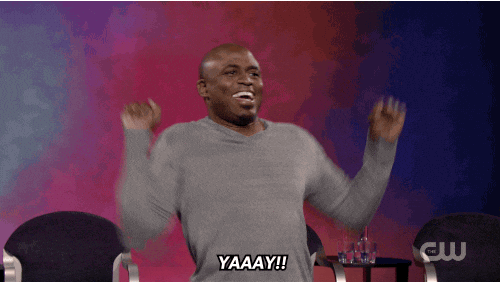 ---
December 2011 ROTM winner
Quote:
YOU'RE F - KING AWESOME!!!
Senior Member
Joined: Sep 2013
From: The East Side
I Ride: ZX14-R: Former bikes --> 2001 929RR, '04, '06 & '08 1000RR and '08 GSXR 1000
Posts: 3,108
---
~~~~~~~~~~~~~~~~~~~~~~~~~~~~~~~~~~
August 2014 & April 2015
Ride of the Month Winner
Congrats


Sent from my new fangled Morse Code machine.
---
2003 ZX7R - Green
Hey thank you!!
This bike is getting a lot of love from me, and will for a long time.
Now you did it though, you voted her in and you'll probably see a lot of pictures from this upcoming riding season of the Seven posing in lots of locals in sunny Ontario, Canada.

Thank you very much!

Matt
Senior Member
Joined: Aug 2015
I Ride: Zxr750l
Posts: 270
well done mate, a nice standard 750 in the right colours!!!
Have to say love for the standard, maybe becoming a bit rare in some parts pulled in some love. Thanks everyone.

Kawzxr9's 1993 ZX-7L /900B bike is gorgeous, that was a tight vote.
Beautiful L model man, I didn't mind the thought of either result, I love your bike too. The seven's kick off month one for 2017.
---
Quote:
well done mate, a nice standard 750 in the right colours!!!
There is always more room for L models! hint hint
Senior Member
Joined: Aug 2015
I Ride: Zxr750l
Posts: 270
Quote:
There is always more room for L models! hint hint
ive already got mine in for this months rotm, so go vote for me!! lol
Hats off to y'all
---
1992 Suzuki 750(1276 BUILD)
1993 ZX7 (950 bigbore)
1992 ZX6D
2003 Yam. Zuma 49cc
2003 ZX9R
Great looking bike. Congrats
Senior Member
Joined: Feb 2012
From: Alabama - ROLL TIDE!
I Ride: 91 ZX7 (J), 91 ZX7R (K), 92 ZX7 (J), 92 ZX7R (K), 93 ZX7 (L), 93 ZX7R (M), 94 ZX7 G/B/W(L), 94 ZX7 B/PK(L)
Posts: 343
Congrats!! Good looking bike!
Posting Rules

You may not post new threads

You may post replies

You may not post attachments

You may not edit your posts

---

HTML code is Off

---