The 2016 Ride Of The Year Champion - Subzero and his '93 ZX7 L1!!!!
---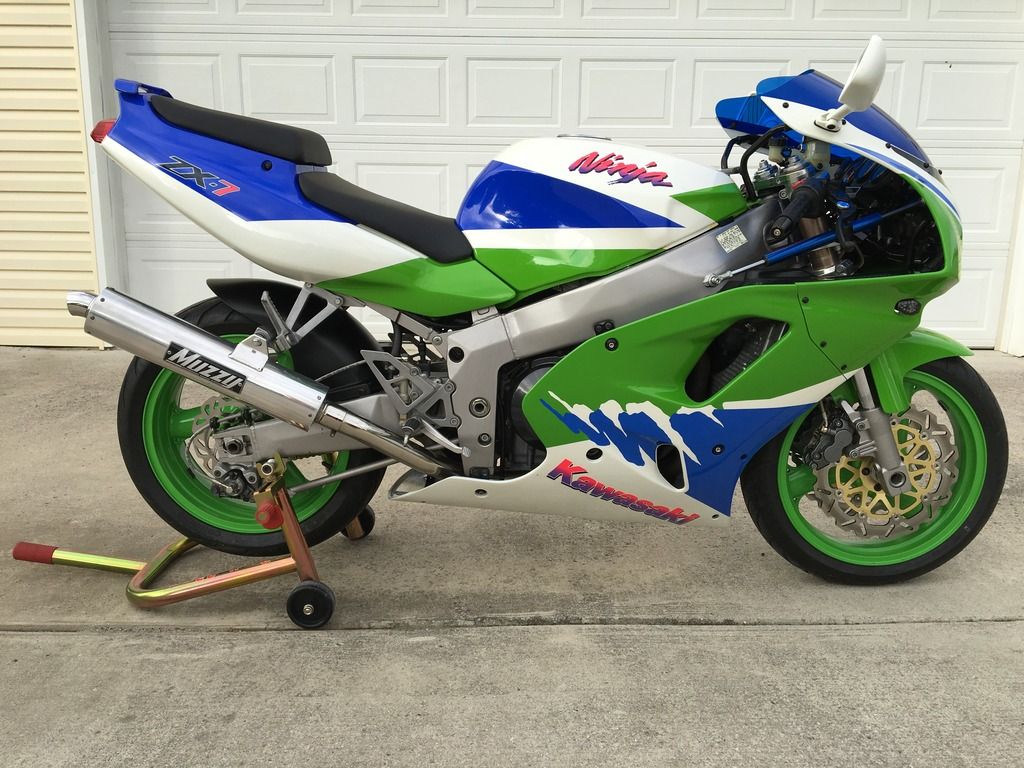 Please help congratulate the second annual ROTY Champion and winner of a $50 CycleGear Gift Card!!! - SubZero's 1993 ZX7 L1. So 2 years in we have 2 winners and both are 7's. I wonder if we will see 3 in a row!
Quote:
I would like to enter one of my bikes into the ROTM contest!
1993 Kawasaki Ninja ZX7 L1
Fresh paint job on upper, lowers, fender by Artistimo Custom Designs! Outstanding job!!- OEM decals for the Kawasaki on the lowers but the blue squiggles have been painted on now which is better since Kawi originally used decals and they would always crack and discolor due to the heat from the exhaust. Lowers have been cleared over the decals as well to protect them. Upper has the black and the blue decals painted on now which looks awesome.
New Continental tires F&R
Fresh powder coating on the wheels with new bearings, new hub bearings as well (All Balls)
New cush drive for rear wheel
New Pro-Tek swing arm spools
New wave guide style rotors F&R
New SBS brake pads F&R
Galfer SS braided brake lines F&R and hydraulic clutch line also
New Vortex rear 46T 520 sprocket
New Vortex front 16T 520 sprocket
New DID 520 gold chain
Full Muzzy exhaust with new copper exhaust gaskets
Factory Pro jet kit
K&N air filter
Headlight bracket, gauge mount, upper fairing mirror stay & various mounting brackets have fresh gloss black powder coating
New front led turn signals
New windscreen & mounting hardware
New Emgo mirrors
New bar ends
New brake & clutch levers
New grips
New carbon fiber triple tree cover
USB plug for charging phone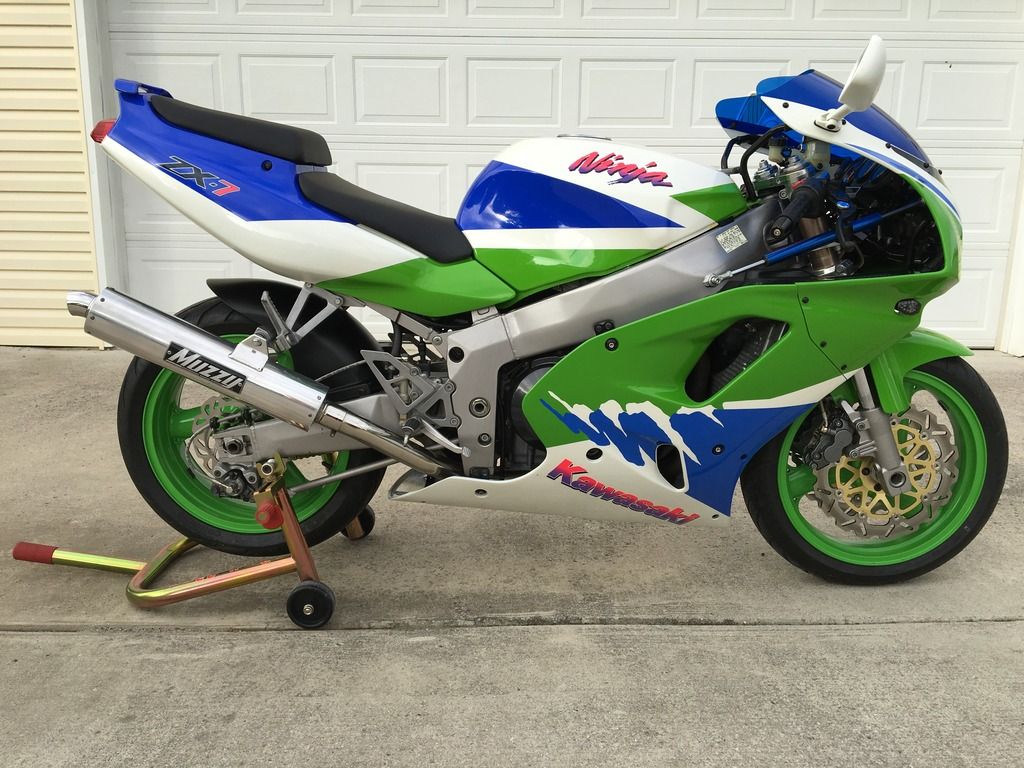 ---
Last edited by Blue; 01-03-2017 at

10:56 AM

.
Congrats. Bike looks great
Congrats!
I love your bike. It's a cleaner version of mine :)
Senior Member
Joined: Sep 2013
From: The East Side
I Ride: ZX14-R: Former bikes --> 2001 929RR, '04, '06 & '08 1000RR and '08 GSXR 1000
Posts: 3,076
---
~~~~~~~~~~~~~~~~~~~~~~~~~~~~~~~~~~
August 2014 & April 2015
Ride of the Month Winner
Great job Chris, way to represent. Beautiful bike

Sent from my SM-G920R4 using Tapatalk
---
ZX7RR WSB: Factory motor, Factory swinger, Ohlins WSB forks, Yanagawa carbon body and factory tank, etc etc
Muzzy Race Raptor
Senior Member
Joined: Mar 2015
From: New Jersey
I Ride: 2014 ZX-14r, 1984 Honda Sabre v65
Posts: 1,302
Congratulations!!

Such a great looking ride!!
#1
Joined: Aug 2008
From: Lake Havasu City,AZ USA
I Ride: 2014 ZX14R
Posts: 54,481
---
December 2011 ROTM winner
Quote:
YOU'RE F - KING AWESOME!!!
Senior Member
Joined: Oct 2008
From: Ohio
I Ride: 91 ZX7R,93 ZX7R,00 ZX12R, 87 YSR50, 87 GSXR750,93 ZX7, 92 ZX7
Posts: 5,915
Congratulations! The bike looks sharp!
---
ZX-14 MotoVlog
http://koflaolivieri.typepad.com/zx14r/
2010 Kawasaki ZX-14
1984 Kawasaki GPz-1100
1977 Kawasaki KZ-1000
1975 Kawasaki Z1-900
1974 Kawasaki 750 H2 triple
1972 Kawasaki 750 H2 triple
Congrats.
Shes a beauty.


Sent from my iPhone using Tapatalk
---
2003 ZX7R - Green
Senior Member
Joined: May 2015
From: Oshawa, ON, Canada
I Ride: 96' Yamaha YZF-600R, 00' Honda VTR1000F, 15' Kawasaki ZX-14R SE
Posts: 244
Senior Member
Joined: Feb 2012
From: Alabama - ROLL TIDE!
I Ride: 91 ZX7 (J), 91 ZX7R (K), 92 ZX7 (J), 92 ZX7R (K), 93 ZX7 (L), 93 ZX7R (M), 94 ZX7 G/B/W(L), 94 ZX7 B/PK(L)
Posts: 343
Thank you everyone for the kind compliments! I really appreciate it and I'm excited to have won this years contest! I've put a lot of work into this bike and it's great to see some reward for all the hard work! The 7's are doing good so far and I hope the tradition continues! I know there are a lot of great bikes out there that you all have and would love to see them represented this next year! Thanks again!
---
Dr. Surb here to let all you ladies know that however much skill I have I do not claim to be a Gynecologist! However, I will take a look!
Senior Member
Joined: Mar 2015
From: Mechanicsburg OH
I Ride: 2014 ZX14
Posts: 190
Nice job on a beautiful machine
Posting Rules

You may not post new threads

You may post replies

You may not post attachments

You may not edit your posts

---

HTML code is Off

---