Newbie
Joined: Oct 2013
From: N.B Canada
Posts: 5
Voltage regulator... Help and advice!
---
I have a electrical/battery charging issue that left me stranded on the side of the road twice. The bike is not charging the battery, the voltage drops across the poles when I turn it on. I bought a new battery and checked the stator and everything is exactly according to the manual... I also checked the voltage regulator for shorts and did a reverse bias test and everything seems good... Here is the part that confuses me.
Just for fun, I started the bike with the voltage regulator and stator unplugged. The bike was running only on the battery at full charge. The bike fired right up and seemed to be running much better than it did lately. As soon as I plugged the voltage regulator back into the circuit the bike starts running rough again....!
The battery is new and the stator is giving the right voltage, I personally think my best bet would be changing the voltage regulator.. Has this happened to anyone on here? Any help would be greatly appreciated! Thanks and ride safe guys!
Stator ----> 50v AC @ idle -- 80v AC @ 4000rpms
Battery ---> Bike ''off'' --> 12.9v / Bike ''On'' --> 12.6v (should be higher)
Known issue with the bike.
Read this thread forwards and backwards:
http://kawasakiworld.com/zx-12r/2877...-new-pics.html
Cliff notes - you have to replace the entire charging system and check your wiring harness because mine was starting to short together in the battery compartment. If you need connectors head over to
http://www.cycleterminal.com
. I replaced the sub-harness entirely, the connector for the main harness, Rick's Stator and Rick's Regulator then after all of that buy a new battery AFTER you replaced the charging system because the bad charging system will kill battery cells. These are my pics for the work...
Burnt oil on stator:
Burnt subharness in battery compartment: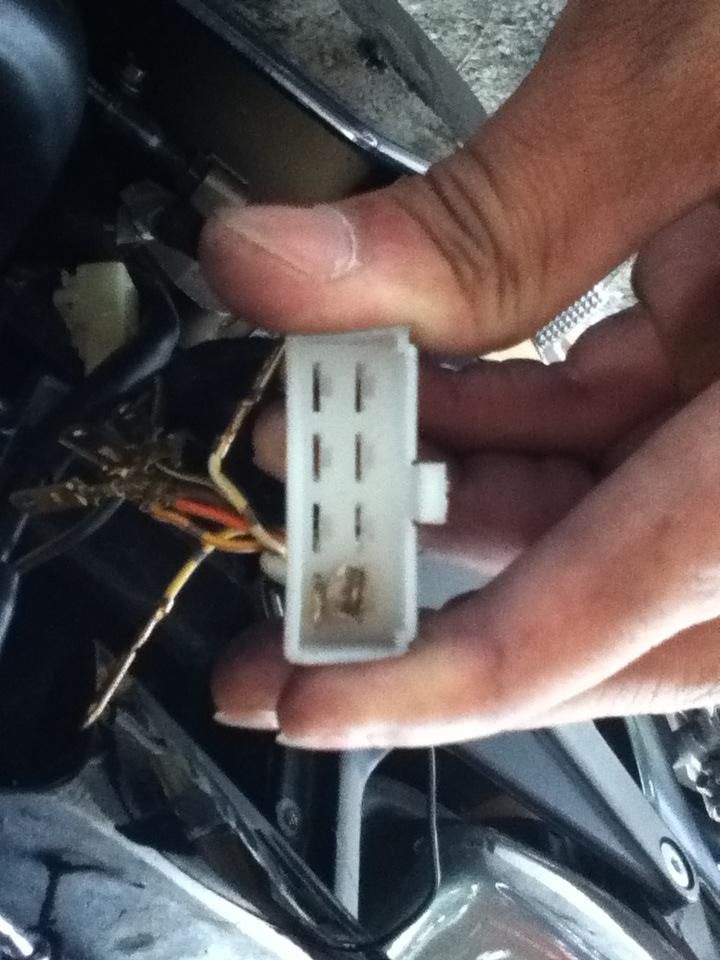 The good news, for $350 in parts and my own labor, I didn't have issues with the bike for over 2 years as my daily commuter....until I threw a connecting rod
---
K&N Filter
PCIII Muzzy Map
Fully Muzzy Exhaust
------------------------------------------------
Valve clearance - checked @ 40k mi
Pirelli Angels GT - installed @ 40.5k mi
New Chain/Sprocket - installed @ 41.1k mi
------------------------------------------------
'Let it do damage like they said it would if given chance' - Chevelle, "Mexican Sun"

I don't like tickets/ keep my speed low/ so slow they gotta ignore it - Rocko 'U.O.E.N.O.' (paraphrased)
Posting Rules

You may post new threads

You may post replies

You may not post attachments

You may not edit your posts

---

HTML code is Off

---