Newbie
Joined: May 2017
Posts: 4
1997 ZX-11 Purchase
---
Couple quick questions on pending ZX-11 Purchase:

I have actually owned two ZX-11's, including a 1997, but it's been almost 15 years so I am out of the loop lol. Wondering if there are still Muffler/Exhaust products for them because I am not finding any unless I am not looking in the right places.

Second, is there any database (like Carfax if that may even work) to run VIN # history, etc as the bike is from Out of State?

Let me know, and thanks in advance :)
Senior Member
Joined: Jan 2006
From: Quebec, Canada
Posts: 1,947
Yup, ZX-11 is quite old by now...
For exhaust, any full system made for 2002-2005 ZZ-R1200 is a direct bolt on for any ZX-11.
If you want to use slip-ons, then you need to use an OEM ZZ-R1200 header and slip-ons made specifically for ZZ-R1200. Again, it is a direct bolt-on for any ZX-11.
If you are creative and comfortable with tools & welding, then you can custom make something using OEM ZX11 exhaust system as a starting point.
Newbie
Joined: May 2017
Posts: 4
Thanks! Had a feeling it was due to age (the exhaust) but good to know there are options :)
Black widow is a great value . The alternative is $1500, 2000 WeBike from Japan selections .
Senior Member
Joined: Mar 2010
From: Seattle, WA
I Ride: 93 ZX-11, 82 CB900F, 79 XS650*SOLD*
Posts: 3,265
I'm assuming you are looking for after market, and Claude has covered that. The ZZR 1200 header is a bolt on, and being stainless steel will last a long time. I'm partial to the Holeshot slip-ons, because they are not generic slip-ons, but they aren't cheap.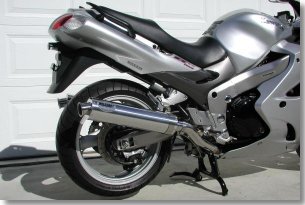 https://www.ebay.com/p/?iid=252632118803&&&chn=ps
ZZR 1200 Header $200 shipped
---
Shakhova warned that a 50-gigaton -- that is, 50-billion-ton -- "burp" of methane from thawing Arctic permafrost beneath the ESAS is "highly possible at any time."
---
Last edited by Blainethemono; 05-15-2017 at

07:34 PM

.
I have a 97 that I bought last thanksgiving... I have found there are a few places still out there to get parts... as said above, Black Widow from england, is a great price... I called them and spoke with them and was going to buy theres... england has a local sales tax that you don't have to pay here...so including shipping, the price is better than the price shown on their web site... and they told me to my door in a week...
http://www.blackwidowexhausts.co.uk/
I found a NOS Micron off ebay for a deal that I couldn't pass up on.. so I went with it instead. I love my ZX11.
Johnny
Newbie
Joined: May 2017
Posts: 4
Appreciate the info folks!! Picking it up tomorrow (and will be beautiful weather here in CT, finally!) and I will post pics :)
Ok... it's tomorrow.... LOL... pics... :-)

Just yankin yo chain bruda...

Johnny
Newbie
Joined: May 2017
Posts: 4
Forgot what a torquey beast this thing is!!! Loving it
---
Last edited by Dave Abare; 05-18-2017 at

10:56 AM

.
Posting Rules

You may post new threads

You may post replies

You may not post attachments

You may not edit your posts

---

HTML code is Off

---