Bleeding the clutch on ZX11
---
Guys... last week I was out riding and out of the blue, beautiful skies above Texas, my clutch started slipping... I was like wtf....? Wasn't even pounding on it... just pud-kucking along... So, I started reading that the master cylinder can get gummed up and cause the push rod to not release all the way, made it sort of like resting your foot on the clutch peddle in a Big Block first gen Camaro with four speed... So, knowing that the m/c was low on fluid when I got it a few months ago, I decided that is probably the culprit... and it was... thing was full of what looked like Red River Mud that had dried and got wet again a dozen times... so I pulled it off the bike, cleaned it and cleaned it and cleaned it until it was clean...ish.. I also used a carb/cutting torch cleaning wire..the smallest wire on the set.. to clean out the small hole..the small wire barely fits..so, put it back on the bike, fill with DOT 4 silly-cone based fluid and began to bleed it... well, no pressure... clean fluid coming out the bleeder.. so I read some more..and more..and more... lots of ideas and suggestions.. might vac.. syringe from CVS..and so on and so on.. nothing worked, as with most people on dozen threads... ordered a rebuild kit for m/c and slave cyl figuring the spray cleaner I used eat up the seals.... so last night when I got home, I had thought about the m/c not having a bleeder and it should.. so I squeezed the clutch a couple of times...zero pressure... and cracked the line going into the m/c and could see without doubt the huge splurt of air/fluid that spewed out... instant pressure on the lever... did it a few more times for good measure, filled the reservoir with fresh fluid and VIOLA..bled clutch..
So, the moral of the story is... hell, I don't know... figure it out for yourselves...
[IMG]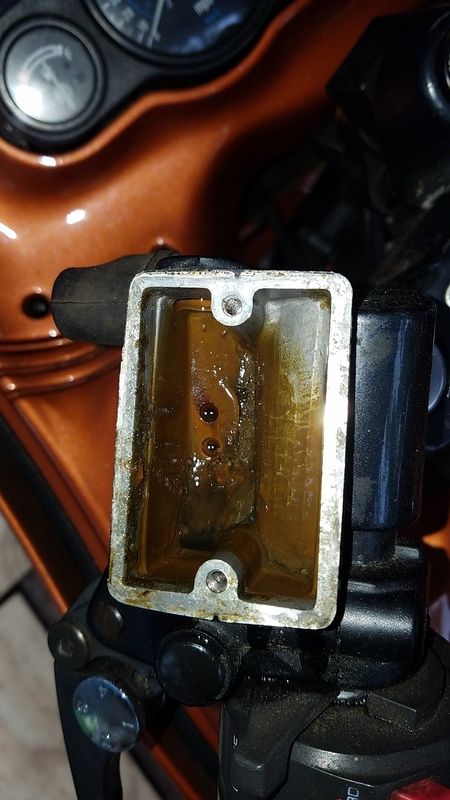 [/IMG]
[IMG]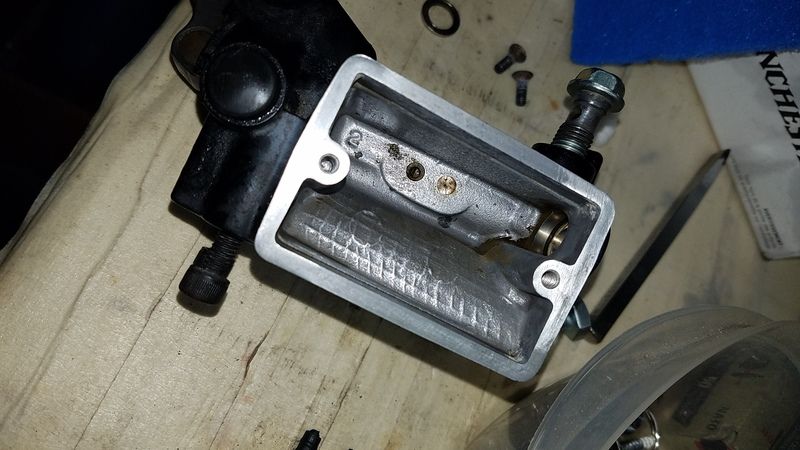 [/IMG]
Change your fluid and rebuild master and slave . It's over 20 yrs old.
Senior Member
Joined: Apr 2009
From: NW Tennessee
I Ride: a quicker bike than you.
Posts: 234
Quote:
Originally Posted by
taildragger1197
View Post
That's good info..thanks.. Turned out I didn't have to pull the slave cyl... once I bled the air out at the Banjo fitting at the M/C, all was good... I did order rebuild kits for the m/c and the s/c as well as the front brake m/c also... I still have to install the SS brake lines on the front brakes, figured I would do the entire system while at it...clean the m/c, flush all fluids, etc... I ordered the manual cam chain tensioner from ELS and put it on...I will order the S/C part before I go back into that setup...thanks.
Johnny
Senior Member
Joined: Mar 2010
From: Seattle, WA
I Ride: 93 ZX-11, 82 CB900F, 79 XS650*SOLD*
Posts: 3,280
Thats nothing, try pulling the clutch cap and see all of your brake fluid had turned to PASTE!!!!!

Happened about 2 weeks after I bought the bike. Had to flush the system a few times.
---
Shakhova warned that a 50-gigaton -- that is, 50-billion-ton -- "burp" of methane from thawing Arctic permafrost beneath the ESAS is "highly possible at any time."
Quote:
Thats nothing, try pulling the clutch cap and see all of your brake fluid had turned to PASTE!!!!!

Happened about 2 weeks after I bought the bike. Had to flush the system a few times.
Did you see my pics? LOL... paste would have been great... the pic is after I dumped it... was thick brown mud... took two cans of brake clean, a can of carb cleaner and a wire brush to scrub it all out.. and then still wouldn't work due to the tiny hole being plugged..had to poke it out with the smallest wire from a set of tip cleaners.. lol... I couldn't believe it was still working when I opened it up... Pulled my front brake m/c yesterday and installed my SS lines... it was remarkable clean..comparitively...had a few brown spots..but I could see the bottom.. put the new lines on and bled it.. still need to put the better pads on.. has the aftermarket organic style now... they fade quick... but it's all good now... put everything back together yesterday, so hopefully this weekend will be like last one and I can get some time in the saddle...
good luck..
Johnny
Pretty common for air to get trapped in the clutch or brake master cylinders and around the line banjo fittings. Bleeder banjo bolts are great alternatives to regular banjo bolts, making the bleeding process easier/cleaner.
Posting Rules

You may post new threads

You may post replies

You may not post attachments

You may not edit your posts

---

HTML code is Off

---