View Poll Results

: Vote for Your Favorite Bike!!!

Pyke13's 93 ZX7L
10
47.62%
57x's 1995 ZX-7R
11
52.38%
Voters: 21. You may not vote on this poll
The Official February 2017 ROTM Voting Thread!
---
This is the voting thread.
The winner of this poll will be placed into the Ride of The Year voting thread which will open December 1st of each year. The ROTY Champion will be awarded a zxforums.com ROTY Champion personalized t-shirt.
I will update the poll as entries are accepted in the entry thread.
(click here for entry thread.)
Deadline for entries is 11:59pm (eastern time) on the 15th of the month.
After the deadline has passed, I will edit this thread so that the entries will be contained here in the voting thread to make voting quick and easy.
No entries will be accepted in this thread.
As always, if you have not
won
the ROTM contest during the current ROTY calender, you are eligible to enter.
Thank you and Good luck to the contestants!
Here they are:
Pyke13's 93 ZX7L:
Quote:
since i missed last months rotm by a couple of hours i will put mine in this month.
zxr750L 1993ish, ive had it for years in storage and decided to get it up and running this winter. the big push came when my brother in law bought a 2006 zx6r.
the bike i bought had a whole in the frame filled with body filler and covered with a sticker so i bought a frame and built it up over the last 3 months and should have it road legal by this weekend.
spec list.
2015 zx10r forks big piston forks
2015 zx10r bottom yoke
2005 zx10r top yoke
zx6r ignition barrel
aprilia rsv tuono OZ racing wheels (slightly lighter than gen 1-3 zx10r wheels)
aprilia rsv millie gen2 swingarm
aprilia rsv milie rear brembo brake with wavey disc
320mm brembo front discs (from a ducati 748 i think)
zx9r b rear shock (rebuilt and re valved)
braided hoses all round including clutch
stubby leavers
1/5th turn QA throttle
SPA design speedo/tacho with built in shift lights
stainless motad headers with carbon fiber micron race can
carbon fiber front mudguard and exhaust hanger
clean air mod
NKG leads and plug caps
ever unused bracket removed
aluminium flue pump bracket, battery tray and electrics tray
lithium ion battery
single seat
ORIGINAL 1993 paint work on fairings and tank
probably a few more bits ive missed out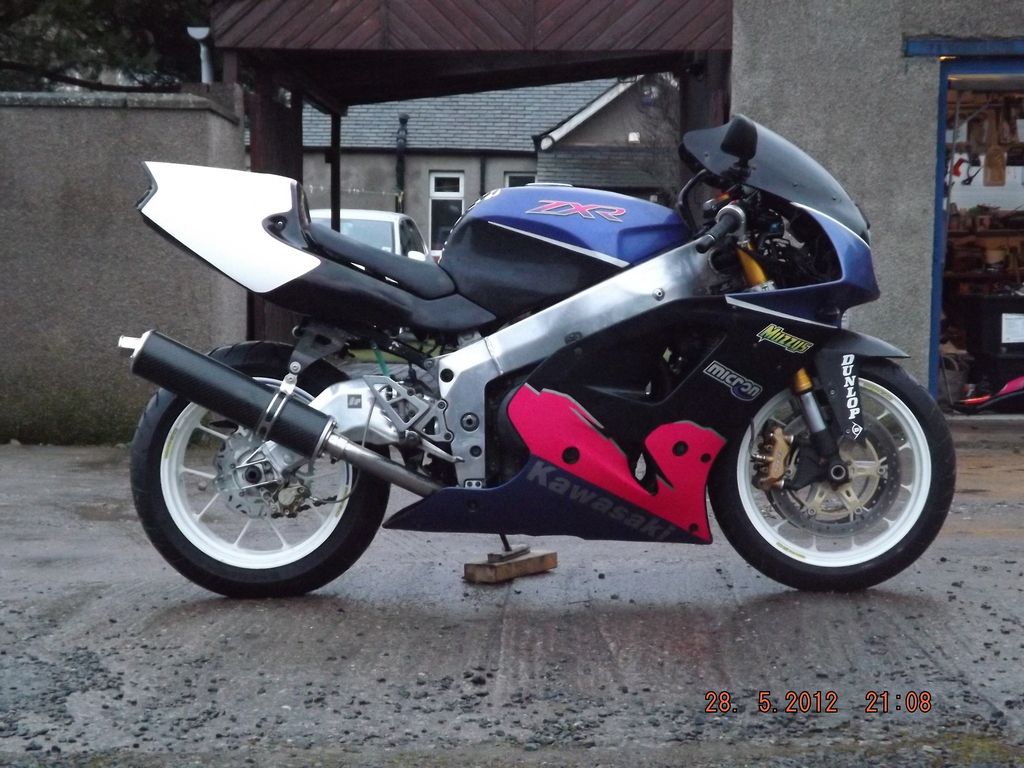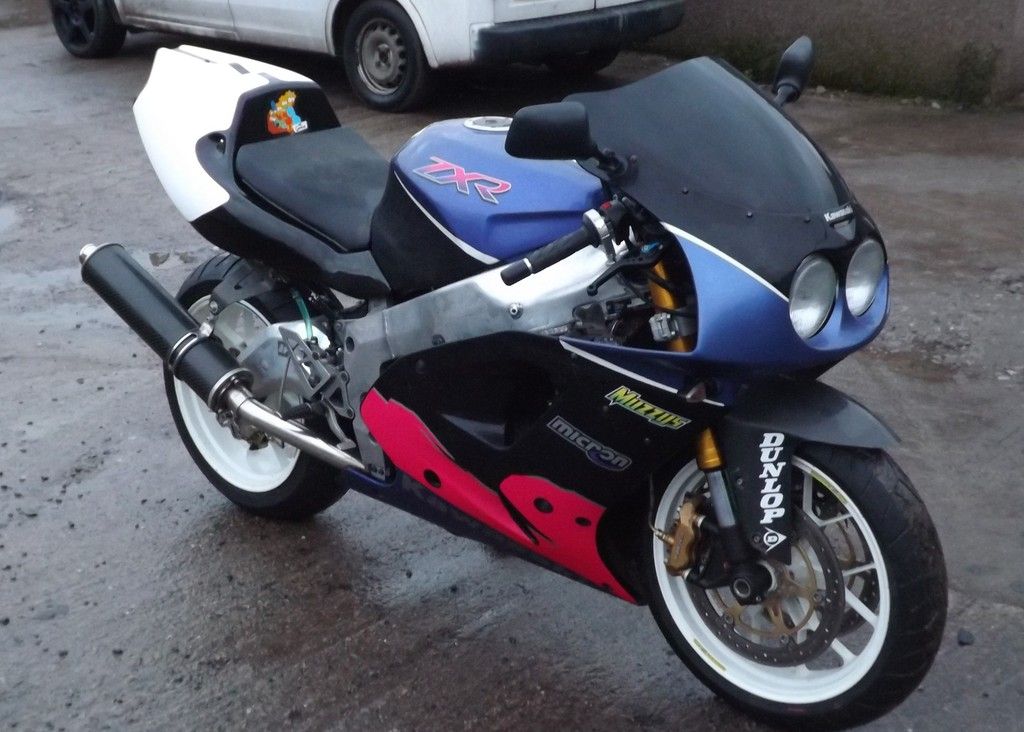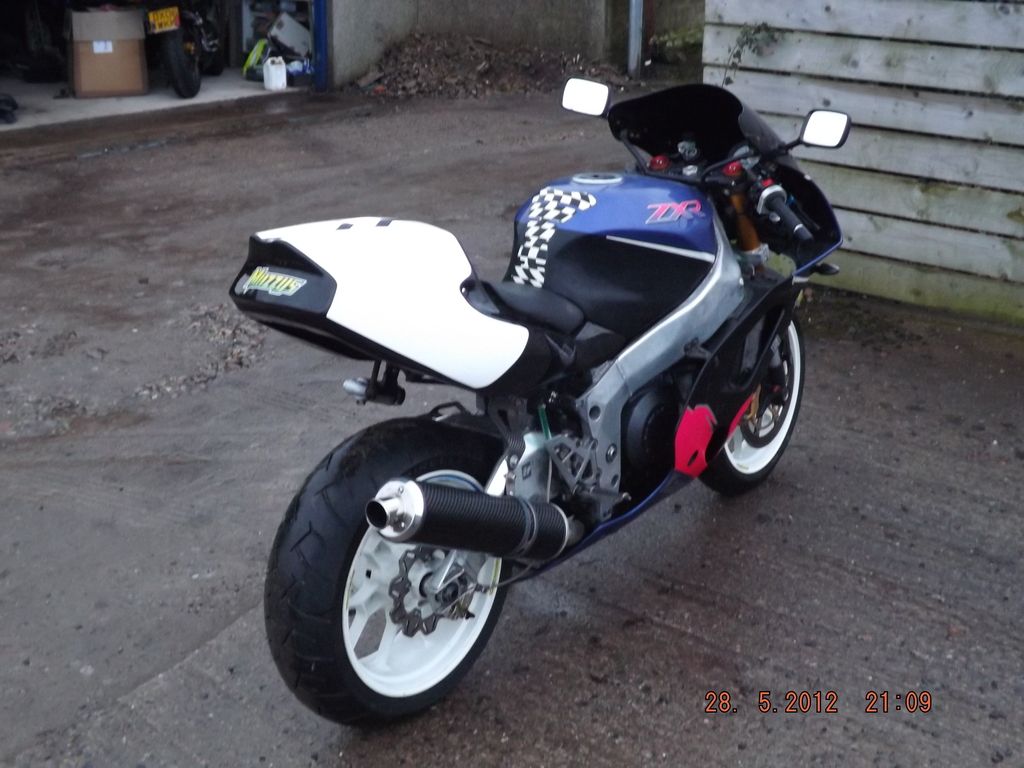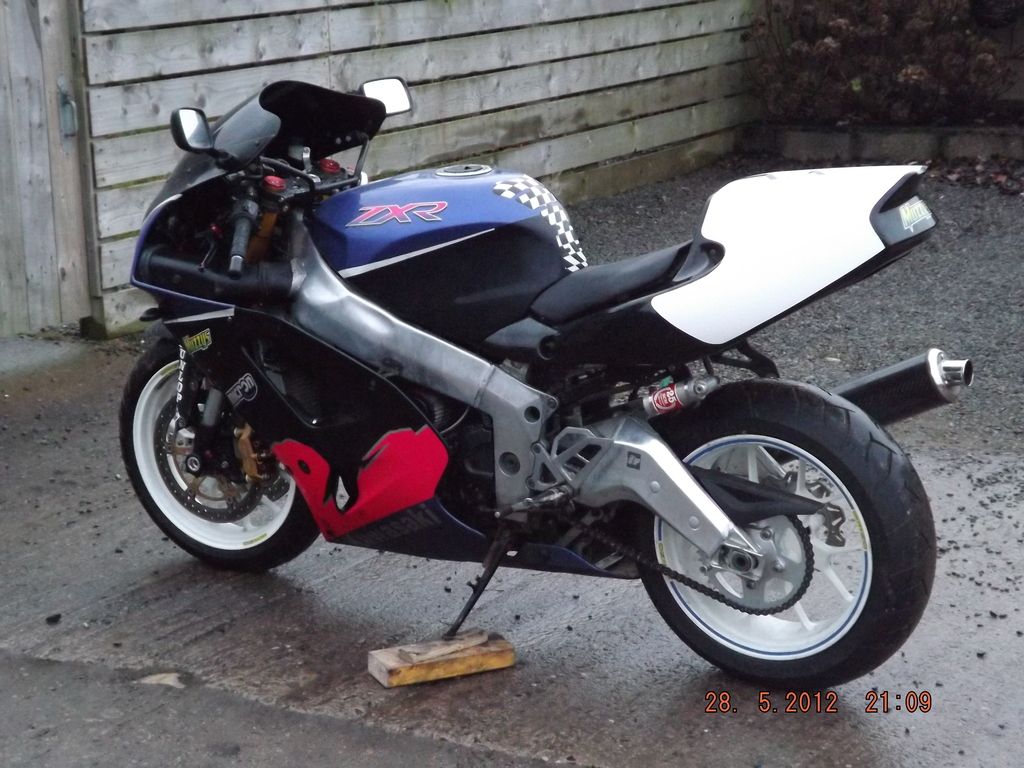 a link to the build thread,
http://www.zxforums.com/forums/zx-7r...d-finally.html
57x's 1995 ZX-7R

Quote:
1995 ZX-7R Crevier Muzzy Superbike
I got the bike in rough shape, missing some critical parts including fairings. Fortunately, I picked up a real Crevier superbike fairing set when I was up picking up all the other parts from Muzzy a while back. I had many of the missing parts in my parts stash to complete this bike, and sourced some others. This was not cheap exercise, but well worth restoring one of the few COMPLETE M superbikes left anymore. Still way less than a ZX10RR or H2.
I starting stripping it apart, cleaning everything and assessing what was missing. I then started polishing the frame, swingarm, etc., damn, that is hard work. As you can see in the pics, I layed everything out to confirm I was ready to start building. I assembled as many parts on the frame as I could before lowering the frame over it. Assembly is a painstaking task, leaning heavily on friends that know how these bikes go together. It is quite different than the street bike version.
Parts on the bike that I can remember. When I list Factory, it means KHI Factory Works. These parts were only available to the Factory teams:
- Factory Frame, upper fairing stay, gauge holder, clutch lever/cable, Ohlins shock, Ohlins damper
- Factory engine with magnesium covers including cable clutch transmission cover. Internals include Factory cases/head/crank/cams/rockerspistons/oil pump, Kit rods/transmission/valves/valve springs/retainers/clutch basket
- Muzzy Manufactured/Modified Swingarm, Subframe, battery tray, radiator brackets, side/lower fairing brackets, aluminum race fuel tank with carbon fiber cap, suspension link/dogbones for Factory shock, full titanium race exhaust for Factory engine (quite different than Muzzy retail exhaust, race carbon fiber fairings, gull wing triple clamp
- Kit tach, temp gauge, radiator, airbox, rear brake caliper/rotor, rearsets, front/rear wheel, rear quick release axle, front axle, sprockets, harness/CDI/Ignitor/coils/sensors, raised swingarm blocks
- Ohlins FG9400 Superbike forks with AP brake master/front calipers/rotors
- Muzzy kitted FCR 39s with race throttle
---
Last edited by Blue; 02-15-2017 at

04:45 PM

.
Senior Member
Joined: Sep 2009
From: Rancho Palos Verdes CA
I Ride: '14 14R the BBW, 06' ZX-14 dead and gone, 84 911 Cab
Posts: 805
Frankenbike vs. Super Duper Bike .... hmmmm kinda like the recent election 87% probability Super Bike cant lose

Both are really very nice guys!
---
aka cruderudy
March 2015 ROTM Winner
Senior Member
Joined: Sep 2013
From: The East Side
I Ride: ZX14-R: Former bikes --> 2001 929RR, '04, '06 & '08 1000RR and '08 GSXR 1000
Posts: 3,108
Did my good deed for the day.
---
~~~~~~~~~~~~~~~~~~~~~~~~~~~~~~~~~~
August 2014 & April 2015
Ride of the Month Winner
Senior Member
Joined: Sep 2013
From: The East Side
I Ride: ZX14-R: Former bikes --> 2001 929RR, '04, '06 & '08 1000RR and '08 GSXR 1000
Posts: 3,108
---
~~~~~~~~~~~~~~~~~~~~~~~~~~~~~~~~~~
August 2014 & April 2015
Ride of the Month Winner
Both these bikes are amazeballs, i love them.
Good luck guys another month of killer Seven winners!

Great job guys!
Bump for votes!! Last day for voting!!
Senior Member
Joined: Mar 2015
From: New Jersey
I Ride: 2014 ZX-14r, 1984 Honda Sabre v65
Posts: 1,349
#1
Joined: Aug 2008
From: Lake Havasu City,AZ USA
I Ride: 2014 ZX14R
Posts: 54,618
---
December 2011 ROTM winner
Quote:
YOU'RE F - KING AWESOME!!!
What happens in a tie?



Sent from my new fangled Morse Code machine.
---
2003 ZX7R - Green
NeverMind.... hehe
---
2003 ZX7R - Green
Posting Rules

You may post new threads

You may post replies

You may not post attachments

You may not edit your posts

---

HTML code is Off

---